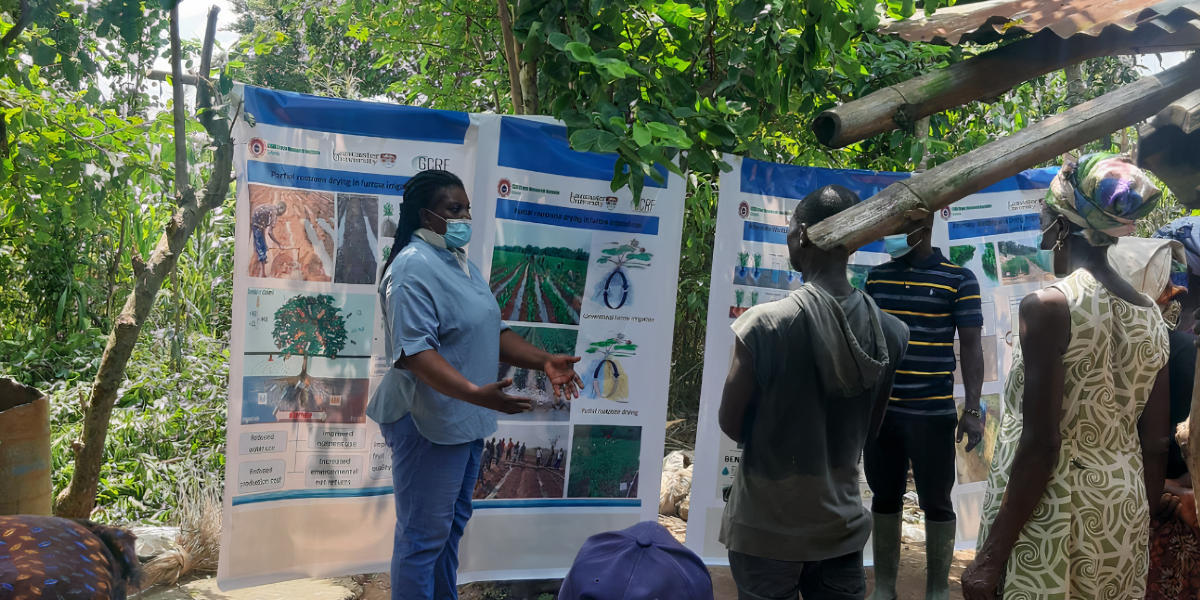 As part of efforts to promote Partial Rootzone Drying (PRD) and Alternate Wetting and Drying (AWD) technologies for tomato and rice production in Ghana, a mass dissemination exercise was carried out in eight municipalities/districts across 4 regions in Ghana. The regions and their corresponding municipalities or districts are Bono East (Kintampo North and Atebubu-Amantin) Volta Region (Hohoe, Ho and Afadzato South), Bono Region (Asutifi South and Sunyani West), and Ahafo Region (Tano South). Two hundred and eighty (280) people, comprising 165 males and 115 females participated in this knowledge exchange and outreach program. The participants included agricultural extension agents/officers, agriculture champions and local farmers, executives of Farmer Based organization's (FBOs) and policy actors (at the Departments of Food and Agriculture of Ministry of Local Government and Rural Development). The main objective of the stakeholder engagement and outreach program is to disseminate the results achieved under the PRD and AWD irrigation and build capacities of relevant stakeholders, including farmers.
In all communities visited, the outreach program was conducted using three strategic approaches over 3 sessions. The approaches used were:
Facilitation approach where presentations were made using posters and pictures;
Demonstration approach where hands-on trainings were done in the crop fields or any appropriate field;
Discussion and feedback approach where facilitators and participants engage in discussions around the themes presented
During the discussion sessions, participants expressed a wish to adopt and implement the technologies, particularly with the increasing water scarcity challenges confronting the farming communities. However, requests were also made to establish demonstration plots to give further training to stakeholders in the various communities, and provide inputs such as perforated plastic tubes to measure water table heights during AWD, and fertilizers.
The engagements allow ideas and feedback to be generated for widespread dissemination of the AWD and PRD technologies across the country. It also created awareness of the PRD and AWD technologies and its importance as water saving technologies for sustainable farming systems. For sustainability beyond the RECIRCULATE project, and to continue to disseminate AWD and PRD, the Department of Agriculture will integrate the technologies into the Research and Extension Linkage Committee (RELC) systems. The RELC system is a National Platform for capacity building and dissemination of improved technologies to agriculture value chain actors.
| | |
| --- | --- |
| | Dr Ebenezer Annan-Afful is a Senior Research Scientist at CSIR-Crops Research Institute, Ghana. His research activities include rice and related fields, sustainable rice-based cropping systems in the rainfed lowlands of Ghana, on-farm evaluation of water management structures in inland valleys for rice production in Ghana and ecological studies on nutrient cycling and flows in and between various land uses. He is currently co-developing proposals around technology dissemination, irrigation and nutrient management for crop production. |
| | Dr Stephen Yeboah (Agroecology/Agronomy) is a Research Scientist of CSIR-Crops Research Institute, Ghana. He has expertise in cropping and farming systems research, integrated nutrient management and conservation agriculture. Stephen is a key researcher staff on the RECIRCULATE project focusing on nutrient and water management in rice and tomato production. He obtained Doctor of Philosophy degree in Agroecology at Gansu Agricultural University, China. Stephen's research interests is to improve understanding of soil-plant-water relationships. You may contact him by email and follow him on Google Scholar. |
| | Ing. Dr Patricia Oteng-Darko is a Senior Research Scientist (Soil and Water Engineer) of CSIR-Crops Research Institute, Ghana. Her expertise spans efficient resource in crop production, crop modelling and simulation, irrigation and water management in agriculture and aeroponics and hydroponics systems. Patricia is a researcher staff on the RECIRCULATE project focusing on irrigation management in rice and tomato production. You may contact her by email and follow her on Researchgate. |