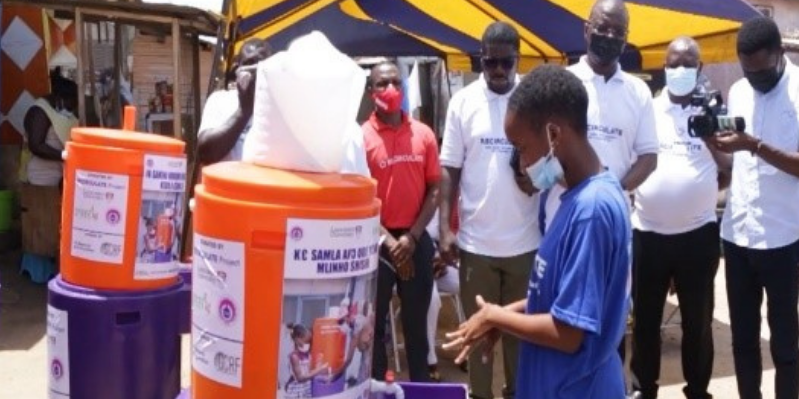 On 27th April 2021, the "Water for Health & Sanitation" team in Ghana organised a community and media engagement event to highlight key activities being undertaken in the Gbegbeyise community and to donate hand washing facilities to enhance hygiene as part of the intervention package under the RECIRCULATE project.
As part of the project activities, a general clean-up was undertaken at Gbegbeyise led by the project team members from CSIR, GreenAD and the members of the community in the morning prior to the launch. Key stakeholders who attended the programme included members of the media, the Chief and Queen mother of Gbegbeyise, community leaders & members, the Director of CSIR-IIR, the CEO of GreenAD and members of the research team.
The following project activities were highlighted at the programme:
The baseline study of water and sanitary facilities in our intervention community (Gbegbeyise) and control community (Madina Zongo) by GreenAd Team (Action Research);
Diarrhoea monitoring of children under 5 years old in both communities by the CSIR-IIR Team (Social Science);
Water sampling in both communities by the CSIR-WRI Team assisted by Action Research and Social science:
Water Journey 1 – Ghana Water Company Limited (GWCL) to transfer station close to Community;
Water Journey 2 – transfer station to Community;
Water journey 3 – household water vending points;
Water journey 4 – household storage drums and buckets;
Water journey 5 – sachet water.
Toilet tank emptying and delivery to Sewerage Systems Ghana Limited (SSGL) plant – to improve sanitation and reduction in faecal matter contamination;
Drain repairs – completed to improve sanitation;
Training of adolescent change agents to educate the intervention community on WASH (Water, Sanitation and Hygiene) practices.
To wrap up the event, short speeches were delivered by the CEO of GreenAD and the Chief and Queen mother of Gbegbeyise who applauded the project and pledged their unflinching support for its success. To achieve optimum engagement and communication, the programme was run in the local language 'Ga'.
"Water for Health & Sanitation" is one of the RECIRCULATE workpackages being implemented in two low-income communities in Accra, Ghana – Gbegbeyise and Madina Zongo. Drinking water samples are being taken and analysed from these communities to ascertain their qualities based on the water journey from production to consumption. The key focus of the project is to look at what happens to the quality of drinking water at the last 100 meters of usage and design interventions to minimise or prevent drinking water contamination. This implies the point of drawing water from a standpipe or a storage tank to the point where water is used by households for their daily needs. The project also samples and analyses wastewater from major drains within these communities to determine the level of environmental pollution caused by household activities. There are four thematic areas; environmental monitoring, social survey, settlement characterisation and action research designed to work together to achieve the overall purpose of improving drinking water quality, thereby reducing waterborne diseases within the community especially in children under 5 years.