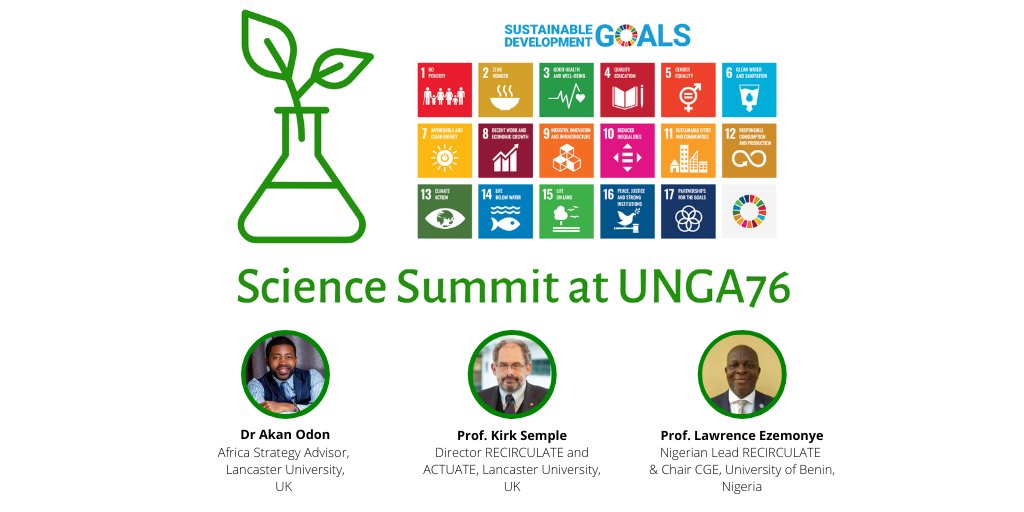 The RECIRCULATE & ACTUATE projects were represented at the UNGA76 Science Summit by Prof. Kirk Semple (Director RECIRCULATE & ACTUATE), Dr Akan Odon (Africa Strategy Adviser), Prof. Lawrence Ezemonye (Nigerian Lead for RECIRCULATE) and Dr Felly Mugizi Tusiime (Head of Climate Change & Environmental Sustainability, AFRII). Lancaster University`s eco-innovation model was showcased alongside with the need for strategic partnerships.
The objective of the virtual meeting was to raise awareness of the role and contribution of science to the attainment of the United Nations Sustainable Development Goals (UN SDGs). The event demonstrated initiatives that provide models for global science mechanisms and activities in support of the SDGs, particularly in science infrastructure and capacity building.
Engagement with policy leadership is more important than ever: UNGA76 is a unique forum for science to demonstrate how policy and political leadership can benefit from innovation. As Africa witnesses an increase in private sector investment, technological development and industrialization across a wide range of sectors and with the recent and ongoing pressures from the global pandemic, there is a need for a national policy level consideration of sustainable models that promote eco-innovation for a green economy and solution-driven research is at the heart of this, addressing the UN SDGs. 
Dr Akan Odon started the conversation by setting the stage for the role of universities in aligning with the UN SDGs. He also highlighted the need for impactful research that drives societal and transformational change and how universities must be at the centre of this framework.
Prof. Kirk Semple presented Lancaster University`s strategy of collaboration – co-design, co-development & co-delivery between universities and research institutions, private sector, policy and communities to address the UN SDGs by showcasing the RECIRCULATE and ACTUATE projects.
Prof. Lawrence Ezemonye extended the talk by presenting the Nigerian perspective of RECIRCULATE & ACTUATE linking to the Centre for Global Eco-Innovation (CGE) Nigeria and working with other sectors, especially the private sector.
Dr Felly Tusiime delivered a talk on  innovations in food production and infection control driven through research at AFRII and how their partnerships with government and industry are contributing to sustainable development.
The international event also included speakers from Argentina, Finland and Sri Lanka highlighting the need for policy level engagement to enhance the role of universities in supporting the achievement of the UN SDGs.