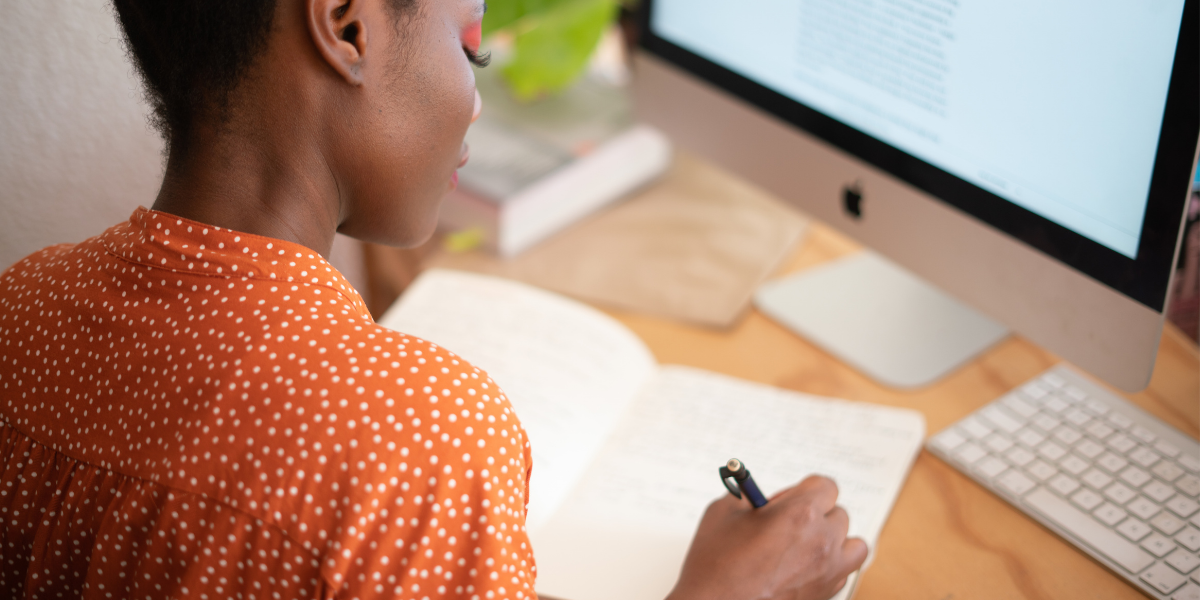 Dr Joana Pais Zozimo, a RECIRCULATE Senior Research Associate, reflects on the ongoing impact of healthy writing retreats, in her double capacity of qualified facilitator and writer.
I suspect that it won't come as a surprise to many of you if I start by suggesting that many of us find writing a real challenge!  That applies in many contexts, but focussing on research, it is a major issue not only for individuals but for the whole research community.  Recent evidence shows that before the pandemic, one in five PhD researchers expected to suspend their studies, take long term leave or drop out completely. Though more research is needed, it seems very likely that these figures will be far worse post-pandemic. Of course, early career researchers decide to leave research for many reasons, but in my experience, the stresses of writing can be a very significant factor. I still find many examples of writers in despair, suffering from imposter syndrome, depression, and burnout. That informs my aim of helping others to overcome their worries and start to enjoy writing!
That aim also emerges from my own experience. I knew from the first day of my PhD that I faced a major challenge in writing to an academically high standard in my third language. Overcoming that challenge has been partly about personal resilience, but also about the life-changing method of the structured writing retreat (SWR). I am forever grateful to Professor Rowena Murray who crafted and developed the SWR method.  I enrolled in one SWR early on in my PhD. After 2 days I knew that I had discovered a transformative approach to academic writing, which to put it simply, was to explore your creative self, to dare to let the process flow and to enjoy your writing.
In more formal terms, the methodology of SWR has a proven track-record as a tool encouraging people to share a physical space for dedicated writing time, where collegiality is built. The SWR method is adjustable and transferable: it works across many different contexts and forms of writing. SWR benefits writers whether they are writing in English or Chinese, in their first language or second language (or their third!). It works for academic or non-academic writing, whether you are working towards a high-ranked publication or crafting a film plot. It works when retreats are delivered online as well as in person. In the context of the GCRF-funded RECIRCULATE project, we felt that SWR would work by supporting colleagues from across the project to produce academic outputs, a key part of fair and equitable research. RECIRCULATE residents participating in a two-day SWR at Lancaster in 2019 reinforced the fact that the usefulness of the method travels beyond geographies, cultures, backgrounds and disciplinary contexts. The shared reflections, co-authoring teams and other collaborations between delegates in the 2019 SWR, led RECIRCULATE to offer an online weekly opening morning: RECIRCULATE Structured Academic Writing Retreat.
Many people ask me, what it is so special about SWR, and why am I so passionate about it – either in my capacity of qualified facilitator, or in encouraging others to attend SWR. The following features give us a taster.
Writing needs time and space to focus: quality not quantity
SWR invites us to 'retreat', and to put aside our busy routine- internet, email, social media, meetings- and procrastination. The SWR ethos proposes a distraction-free, supportive, and healthy working space to push our writing project ahead.  SWR supports participants to intentionally and purposefully disengage from other tasks.  My experience shows that this 'disengaging' is one of the most challenging and difficult steps to conquer, and yet, critical to free up headspace and to contribute to a healthier relationship with the self and their writing practice. In this way, retreats emphasise the quality of 'writing time' not the quantity.  I sometimes refer to this as "timed sprints", but I can't express it better than this feedback from a PhD student attending one of the RECIRCULATE sessions. "I am surprised to learn that we don't need to write for five or more continuous hours. It is unbelievable what I have achieved in one focused hour. I am deeply grateful".
Writing is social: The power of community
Working in a group has many advantages. SWRs are a safe space to discuss writing challenges and increase the wellbeing of writers by creating a sense of connectedness. The support provided by working together works on-line as well as in-person. As a participant in a recent SWR put it- "Social writing has been especially helpful during the global pandemic while we are socially distancing. These sessions may be life-changing!". Findings from my previous practice suggest that joining a SWR creates 100% accountability, gets writers in their writing flow quickly, boosts their confidence and helps them building a supportive network beyond that session.  As an attendee of one of my SWRs put it- "I love the community! It makes a difference to be able to vent, bounce ideas off each other and celebrate small victories together."
Those "small victories" are really important! My own experience reveals the impact of practicing gratitude and generosity towards ourselves and others.  I find it very useful to ask each writer what their reward is for what they have achieved that day. They often struggle to do that- finding it easier to beat themselves for what they have not achieved, although that negative mind-set is very unhealthy. From what I see, one key step in SWR is helping writers to assess their own performance less harshly.
Writing is Decision-Making and Negotiation: Do you know the purpose of your writing project? Decide it. Now
SRW focusses on reminding ourselves of the purpose of our writing. Of course, that assumes we know the purpose, and if we don't SWR helps us to find it. A major lesson is to accept reality.  If, when you start, you don't really know the purpose of what you are writing, that's fine. Accept that and find it out now, think things through, seek support and write about that process. It is yours, your own it!
Writing is enquiring, planning and achievement
Goal planning, setting and re-setting are critical steps to manage and align our expectations and others', such as, supervisors or co-authors. In coming to SWR, newbies do not have a specific goal, nor a planned outline, or a word-number reference for their writing project. The method encourages open and non-judgemental enquiry to plan, and decide goals, timeframe, fit for purpose, and audience for their project. In my practice, I support writers in strategically analyse and select their audience, as well as to target publishing outlets.
In my facilitation, I use SWR to support writers across all stages of their academic journeys. I have no doubt that the structured element combined with the community support really helps, but perhaps it is best to end with two comments from participants. One said "I have been so impressed with the virtual structured approach. It has helped me immeasurably at an incredibly difficult time." Another was "I tremendously progressed in my writing. More importantly, my biggest achievement was to let go of the fear of writing some paragraphs which I was procrastinating for several weeks".
If you find this article useful, reach me here, twitter or in other social media. Let me know your feedback: What is interesting in a SWR approach to writing practice? In your opinion, which angles are worth exploring further?
| | |
| --- | --- |
| | Joana Zozimo is a Research Scientist within the RECIRCULATE "Entrepreneurship and Innovation" Work Package 1 team based at Lancaster University. She is a social scientist and researcher, interested in evaluation practice, African studies, collaborative learning and the use of social practice theory in education and community development. She has been involved in evaluative research and community projects across the UK, in Portugal, Spain and in various African countries, having lived and worked in Mozambique. Joana was a researcher on REAP in a HEFCE grant and is currently a Research Associate, working on the Global Challenges Research Fund project RECIRCULATE. |
All articles in The FLOW are published under a Creative Commons — Attribution/No derivatives license, for details please read the RECIRCULATE re-publishing guidelines.
Related Posts
How was it for you?

As the RECIRCULATE project comes to the end of its 4.5 year funded period, we asked those who joined us for the most recent [...]

Making the Business Case for Anaerobic Digestion in Africa: Business models from across the continent

Grace Bridgewater from the Lancaster Environment Centre and Cathy Olphin from Lancaster University Management School summarise the key outcomes of their analysis of anaerobic [...]

Spotlight Inverview – Sylvia B Mwansa

Sylvia B Mwansa holds a Master of Business Administration International (MBA(I) from Edith Cowan University, Australia. Her Unique Value Proposition is that, she is [...]