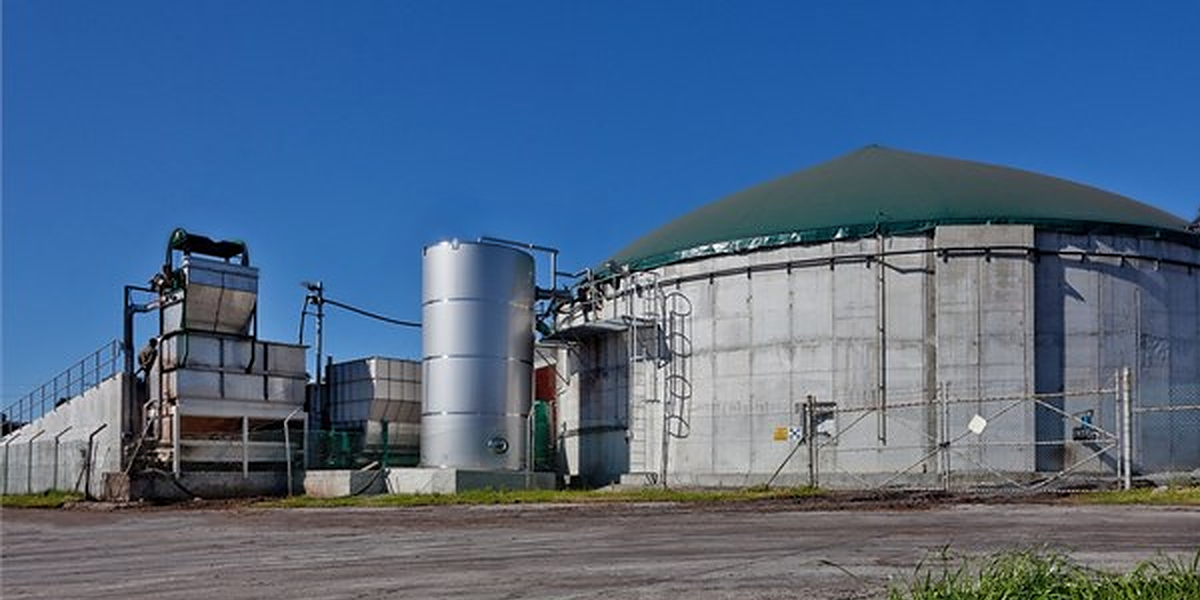 Grace Bridgewater from the Lancaster Environment Centre and Cathy Olphin from Lancaster University Management School summarise the key outcomes of their analysis of anaerobic digestion case studies from across Africa.
As previous blogs in The FLOW have made clear, anaerobic digestion (AD) offers great potential as a solution to several problems common across the African continent, including challenges with waste disposal and inconsistent energy supply.  Within the GCRF-funded RECIRCULATE project, AD is almost the 'glue' that unites different aspects of the project. Optimised AD systems take a range of organic wastes, including faecal waste, converts them efficiently in to biogas and by destroying disease-causing microbes, produces a high-quality fertilizer for use in sustainable food production.
AD remains a relatively new process with a great deal of research ongoing to improve its efficiency, reliability, and affordability. However, scientific breakthroughs alone will not allow AD to be a sustainable success. It is crucial that AD operations have a self-sustaining business model in order to cover maintenance costs and offer incentive for investors. To help identify the factors that lead to a successful AD business model, we have analysed ten key examples from across Africa, each offering unique lessons.
Our analysis included four case studies from Kenya, four from South Africa and one each from Botswana and Ghana. They were diverse in terms of budget, proportion of donor funding, business sector, scale and technologies used. Not all have been successful, but each example offers clear insights that can be applied to future AD implementation. The majority were agricultural, horticultural or food companies using crop production or processing wastes as feedstocks. However, we also looked at a shopping mall in South Africa using non-consumable food waste as a feedstock and a hotel in Botswana using kitchen waste. In most cases, the biogas produced was used to generate electricity and heat for use on site. Only a few sites exported electricity to the national grid or other users. Typically, digestate was also used on-site as a replacement for synthetic fertilizers.
Our investigation has identified some key learnings emerging from existing AD business models across Africa.
Effective planning is essential.  Prior feasibility studies and research can help predict and avoid potential pitfalls and expensive mistakes. For example, the inputs and outputs need to be thought through carefully for a plant to run consistently into the long-term future. Having a diverse range of feedstocks helps to build resilience and to allow consistency over seasons. Another essential aspect of placement is community engagement within the research stage to reduce issues such as lack of interest in outputs, for example potential end-users not wanting to use digestate produced from human waste as fertilizer.
The placement of the AD facility is highly significant in determining its success. Understanding local culture, infrastructure, policy and resources (amongst many others) is crucial in AD site selection. Successful models are often demand-led, designing the AD business model around filling a need. This promotes long-term sufficiency and greater incentive for investment. Taking full account of logistical challenges such as minimising transport of feedstock materials and biogas is essential. Keeping feedstock sources and output users as local as possible can provide a buffer against these risks. Self-consumption (on-site) models reduce costs (feedstock costs, waste disposal costs, transportation etc.) and control over inputs and outputs can help with maintaining consistency.
Privately funded initiatives usually function better due to their initial access to capital and ability to create demand-led business models based on their needs. Further research into this has the potential to uncover how to further democratise the replicability and accessibility of anaerobic digesters, as well has research into lowering the initial costs of digesters and implementation of more production companies in Africa.    It wasn't possible to calculate the payback time for many successful studies due to a lack of information available on the finer financial details. However, where this information was available, the average payback time for AD systems was 5 years. This appears to be similar to or shorter than payback times reported in previous analyses of on-farm AD systems in the USA, or agro-industrial AD systems in Italy.
Local policies can be a strong stimulant for AD technologies through influencing waste disposal costs and implementing sustainability targets/regulations. Policies stimulating investment in AD include increasing the costs of waste disposal and other approaches to implement waste reduction targets, as well as actions that facilitating the sale of excess electricity to the national grid.  For example, the Western Cape has declared that it will divert all organics from landfill by 2026, increasing the need for innovative measures of organic waste disposal or repurposing as seen with one of our AD case-studies in Capetown. On the other hand, local policies can hamper AD innovation through delaying planning approval, restricting access to the national grid or offering lower rates for AD-generated power, as was evident in one of our case studies from Kenya. Easing these policy restrictions could prove to be a major step in encouraging further AD development across the continent.
In summary, our analysis has revealed three overall headlines informing successful business models for AD systems across Africa.  Firstly, the placement of AD sites and its associated policies, resources, infrastructure and cultural considerations are crucial in determining the success of an AD business model. Secondly, resilient business models need to be flexible; a diverse range of feedstock and output users can help to spread risk and prolong consistent supply. Crucially, a key message to emerge from our analysis is that the design of an AD model must be demand-led, filling a clear need for a business or end-user.
RECIRCULATE and ACTUATE are showing that communities are positive about installing and running AD systems that meet their needs for waste disposal and biogas production. We hope that our work presents a varied set of case studies which can allow for future cases to be successful in this up and coming area, which provides a real opportunity for a diverse range of businesses across the continent.
| | |
| --- | --- |
| | Cathy Olphin is a PhD candidate at Lancaster University Management School and a member of the Centre for Global Eco-Innovation at Lancaster Environment Centre. She works closely with Eco-i NW, a £14m research university-business collaboration initiative aiming to promote sustainable entrepreneurship across the north-west of England and is currently working with RECIRCULATE, a circular economy initiative based across sub-Saharan Africa. Her research focuses on questions of eco-innovation, the transdisciplinary nature of sustainability, university-business sustainability partnerships and the ways in which we assess value and priorities through evaluation of sustainability initiatives. |
| | Grace Bridgewater is a social scientist undertaking her PhD with Lancaster Environment Centre, where she is looking at the political economy of agricultural plastics from an interdisciplinary perspective.  Her PhD is part of the Material Social Futures programme at Lancaster University, which is funded by the Leverhulme Trust.  Grace is currently working with RECIRCULATE on the topic of the circular economy of anaerobic digesters within sub-Saharan Africa.  Her research focuses on the puzzle of what it really means to be sustainable, and the way this challenge intersects with our political, economic, and social lives. |
All articles in The FLOW are published under a Creative Commons — Attribution/No derivatives license, for details please read the RECIRCULATE re-publishing guidelines.
Related Posts
Healthy writing retreats: dare to enjoy your writing and joy will abound! Bear with me and try it out.

Dr Joana Pais Zozimo, a RECIRCULATE Senior Research Associate, reflects on the ongoing impact of healthy writing retreats, in her double capacity of qualified [...]

Spotlight Inverview – Sylvia B Mwansa

Sylvia B Mwansa holds a Master of Business Administration International (MBA(I) from Edith Cowan University, Australia. Her Unique Value Proposition is that, she is [...]

Spotlight Interview – Nosayamen Destiny Uhunamure

Uhunamure Nosayamen Destiny is a Lecturer at University of Benin, Nigeria. He earned his first degree (B.Sc.) in Accounting, second degree (M.Sc.) in Finance [...]