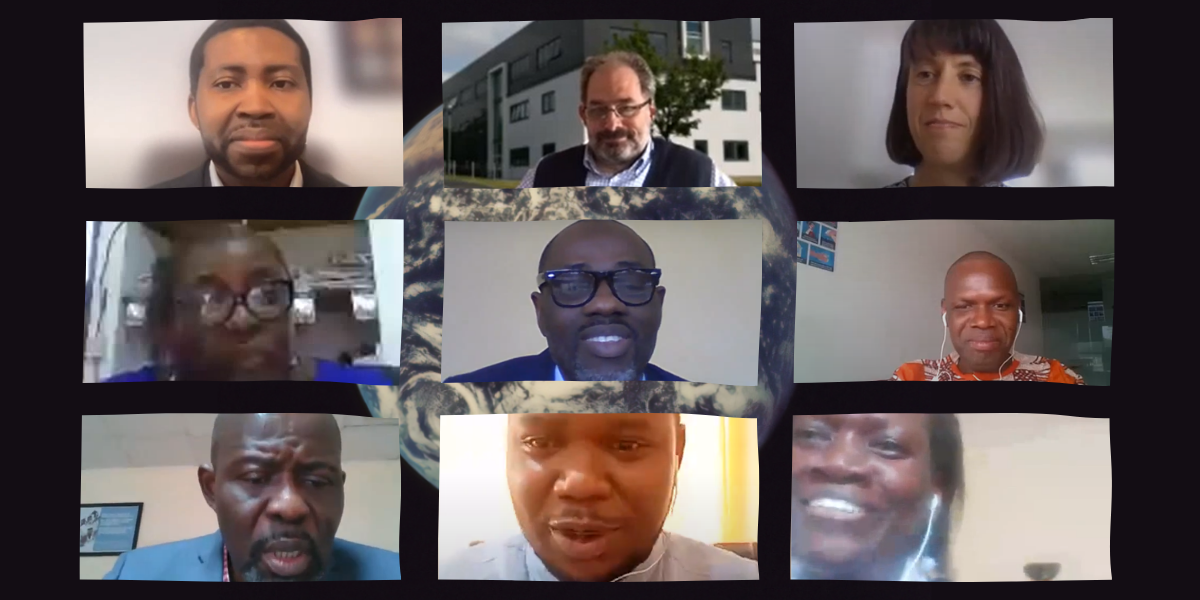 In May 2021, the focus of our PARTICIPATE engagement was capacity building. On 20th May we held our International Entrepreneurship Symposium which showcased our Stimulating Entrepreneurial Thinking in Scientists (SETS) programme", exploring the opportunities in co-designing and co-developing an online entrepreneurship programme for African scientists and researchers. Moderated by Dr Akan Odon and the RECIRCULATE team, the webinar featured specialists from Ghana, Nigeria, Kenya and the UK. After a detailed overview of the SETS toolkit, each guest speaker from the panel shared their view on the programme followed by questions and interaction with the attendees.
The webinar started off with a brief introduction to the topic and the guest speakers, delivered by Dr Akan Odon (Africa Strategy Adviser at Lancaster Environment Centre). Prof. Kirk Semple (Director of RECIRCULATE & ACTUATE, Lancaster University) then provided an introduction to the "Digital University Africa Programme" which aims to apply the power of co-design to stimulate entrepreneurial thinking in scientists followed by a speech from Dr Liz Dempsey (Higher Education Adviser at the British Council) who presented the project from the perspective of the British Council which is main funder.
Anthony N-Yelkabong (RECIRCULATE workpackage co-lead and SETS Programme Manager, Lancaster University Ghana) set the scene by introducing the SETS programme and the need for strategies and policies to address the existing gap between academic research and industry in Africa. Anthony also provided an overview of the barriers and opportunities in institutional and individual context.
Dr Joanne Larty (RECIRCULATE workpackage co-lead and Senior Researcher, Lancaster University) expanded on the SETS programme by elaborating on the need to think entrepreneurially. Joanne presented the overarching SETS framework which provides guidance on how to facilitate a new way of thinking in an online environment. The framework is part of the SETS toolkit which is free to use and adaptable to any organisation.
The webinar then followed a Q&A session where Dr Akan Odon asked the panellists 1) Why do you think a flexible online programme that develops entrepreneurial thinking in scientists is important to your institution? and 2) How do you intend to roll out the toolkit in your institutions? 
Dr Emmanuel Arthur (Academic and Entrepreneur, Lancaster University Ghana, Ghana) shared that what makes the framework unique is that it could be expanded to any area of discipline. He also noted that the SETS toolkit is very powerful catalyst for entrepreneurial thinking which could be easily transferred to students. In response to the second question, Emmanuel shared that Lancaster University Ghana are looking into introducing an entrepreneurship pathway in their curriculum as well as the development of a purpose-build place where academia, industry and students could collaborate and share ideas.
Prof. Caroline Thoruwa (Director of Africa Centre for Transformative and Inclusive Leadership (ACTIL), Kenyatta University, Kenya) focused on the flexibility of the framework by emphasising on the importance of the environment. She mentioned the role of the university as an institution which sets standards, policies, goals and objectives and thus has a direct impact on academics and students. Caroline also mentioned that Kenyatta University has already formed a team responsible for the successful integration of the SETS toolkit and expect the official roll out between September and December 2021.
Nosa Uhunamure (Senior Lecturer at CGE Nigeria, University of Benin, Nigeria) believes that learning is evolving and so teaching methods should evolve as well. As the context and the situation are different in any institution, the SETS toolkit`s adaptable responsiveness contributes by building confidence and sense of independence for both academics and students. Nosa also shared that University of Benin plans to integrate the SETS toolkit in their Centre for Entrepreneurship Development module which is compulsory to undergraduate students. 
Charlotte Oduro-Yeboah (Research Scientists and Technologist at CSIR-Food Research, Ghana) talked about the need for practical solutions to service problems. According to Charlotte, researchers and scientists could play a crucial role in the process of developing and utilising solutions to such problems. She also mentioned that CSIR organise trainings for research scientists and technologists and plan to incorporate the SETS toolkit within those trainings in the future.
Dr Spencer Nwangwu (Director SDG Centre, Igbinedion University, Nigeria) is confident that no matter whether you are a scientists or non-scientist, teaching entrepreneurship is the way to go. He shared that the SETS toolkit would help his institution to benefit from the opportunities and act entrepreneurially because the toolkit is more practical-oriented than classroom-based modules. Spencer also mentioned that Igbinedon University plans to adopt and modify the toolkit so they can claim a sustainable ownership of it.