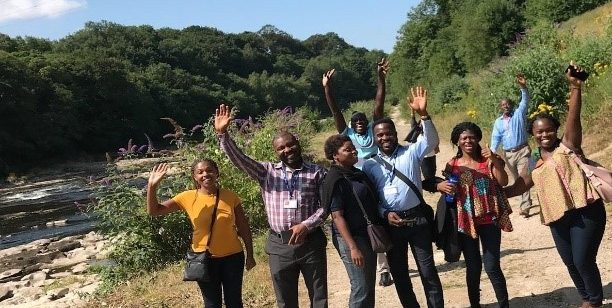 Residences provided colleagues who have attended workshops the opportunity to spend up to eight weeks working in Lancaster alongside the UK-based team. The nature of these residences had a common structure in combining formal support and training with hands-on peer-to-peer learning. WP 1 organised catch up lunches and thematic visits on a weekly basis.
This visit to Halton Mill was part of a Social Entrepreneurship day on 19th July 2018. A day out exploring different models of enterprise at Halton Mill with inspirational contributions from The Growing Club (Jane Binnion), The Guild (Keith Jackson), Lancaster Cohousing, Growing with Grace, Halton Lune Hydro. Some of our guest speakers are LUMS Entrepreneurs in Residence.
We have used the Mill various times for days away when we took groups of 40 delegates from West and East Africa to work on issues related with eco-innovation and a safe circular water economy. Delegates showed curiosity and asked so many questions to the welcoming team, who guided us across the different spaces in the Mill – co-working, co-housing, the river and we had delicious vegan lunches in the cosy kitchen. This place is the ideal setting for the type of collaborative research we do, as we can see 'in practice' some of the 'eco-innovations' we know from the theory.
The Mill works with and for people, learn from them, and build relationships and even friendships. It is a brilliant illustration, of a quilt of socio-relational life, care, sustainability, love, affection – all of these co-exist in a perfect harmony with the stunning nature of their outdoors. We have seen real collaboration in practice as local to global interconnections emerged.