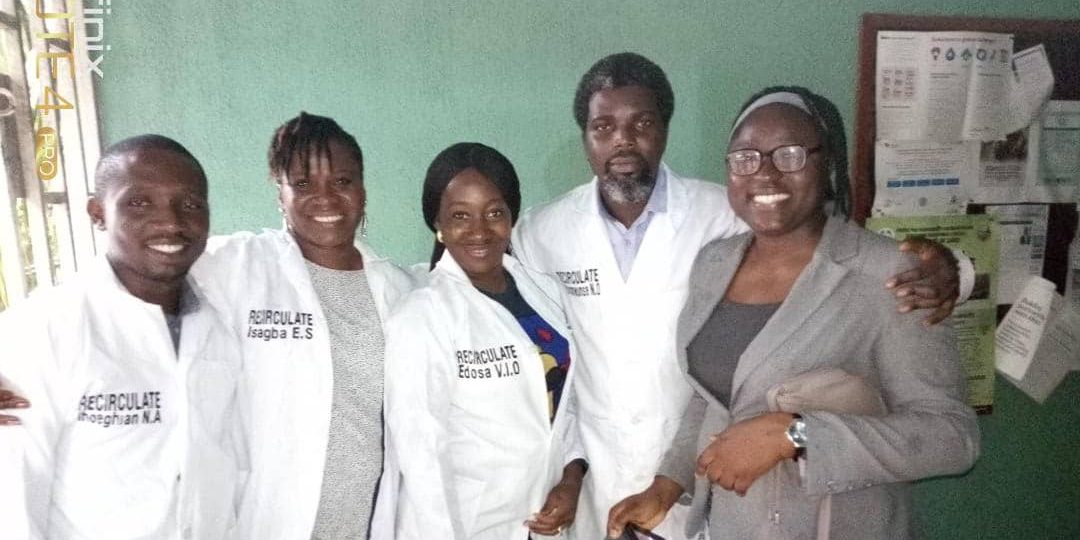 A glimpse in to the lives of two RECIRCULATE women, and in to how RECIRCULATE is relevant to the lives of women across Africa
Being a woman, a wife and a mother in Nigeria is a tough job. It comes with a lot of hard work and the need to balance different requirements and expectations. Adding any career to the mix makes that balance even harder to achieve, especially a career as demanding as research. For the last two years, we have both lived this 'balancing act' as PhD researchers on the GCRF-funded RECIRCULATE project. As well as giving us insights in to the challenges of being women in research, our PhDs have also given a much better idea of the wider roles of women in delivering the sustainable development goals (SDGs) that are a key foundation for our research.
The majority of Nigerian women, directly or indirectly play an important role in food and agriculture regardless of their level of education or profession. This is because, as a wife and mother, she is responsible for making food available for her family to eat. Women as small-holder farmers, constitute about 70 percent of the agricultural labour force. From establishing home gardens to owning about 10 hectares of farmland, they are involved in the bulk of food production for domestic consumption, marketing and preservation of the agricultural products. Despite all these, they have limitations such as access to finance, land and time to run the farm and their home compared to their male counterparts. Furthermore, in rural areas, these same women go through the arduous tasks of fetching and splitting firewood after a hard day's work, cooking food for the family with the firewood- and inhaling the fumes in the process- cleaning and managing the wastes generated from their homes.
The story is not so different in the urban setting. The woman/wife/mother, despite the fact that she is also pursuing a career, has it ingrained in her that her home is her primary and major responsibility. Everything else comes second. Sometimes a close second, sometimes much more distant- but always second. Juggling the duties of being a wife, mother, and a researcher is a feat for a woman most especially in Nigeria where society views the primary duty of a wife as her home. Her career comes a far second even when her spouse is willing to help-out with the chores.
If we focus specifically on the challenges faced in research, then women and men are trying to climb the same slippery pole towards promotion and advancement.  So are allowances made when a woman needs to take days off her laboratory work to care for a sick child, or attend compulsory children's school events? Or, when she needs to search for good food items at rock bottom prices and even start a home garden to reduce the family's expense? Don't forget, she's also in charge of the trash management too. What allowances are made for any of the multitude of tasks that our society assumes fall to a woman rather than a man? From the forthright discussion in the PARTICIPATE Whatsapp group, we are assuming those are rhetorical questions for most of you. Or maybe that's closer to half of you? We have no doubt that this discussion will continue, so let's turn to what our research is telling us about the role of women in helping to reduce challenges faced by major portion of the Nigeria population, especially the women themselves, in both rural and urban areas.
Our RECIRCULATE research at University of Benin investigates anaerobic digestion for the production of biogas, not least as a domestic fuel.  This is directly related to alleviating the challenges of using wood not just in cooking but also in smoking fish and meat as a means of processing and preserving food. Using wood brings with it not just the physical strain of fetching of firewood but also the damage of health that comes from inhaling fumes from the wood during cooking.  Both threats fall predominately on women.
For those fortunate enough to cook using liquified natural gas from the gas canister there is still the stress of a canister running out unexpectedly while cooking.  If this happens at night, after work, when there is no gas station available for a refill, the responsibility for not getting the meal on the table lies with who…….? You guessed it and, trust us, we know exactly what that feels like!  Part of our work on anaerobic digestion is to develop a 'home-canister' model of the anaerobic digester for methane gas production. Anaerobic digestion efficiently manages organic wastes and produces clean energy in the form of biogas. We have designed our 'home-canister' to provide biogas for a household, and so avoid the burden of collecting fuel and the hazards caused by smoke inhalation. Ideally a home canister will allow households to be to self-sufficient in clean, sustainable cooking fuel. Even used alongside conventional canisters it would go a long way to providing a more robust and reliable supply in reducing stress on the women in the front-line of putting a meal on the family table.
In their role as food producers, in family plots or small-holdings, women will also benefit from the digestate obtained after all the gas has been used.  Digestate may be used as a low-cost and sustainable alternative to expensive commercial fertilisers.  Using digestate as soil amendment/organic manure benefits soil health and crop production, especially when used in the cultivation of vegetables.
Working with RECIRCULATE as researchers and as women/wives/mothers has shown us that we can deliver a positive sustainable impact from results of research not just to the community at large but to our own families.  Our experience has given us what we will term "the RECIRCULATE apron". Working on the project has helped us with time management and with juggling all our different activities. We have uncovered hidden skills that we never thought we possessed. It's been great for us.  Given the time of year, we are wondering whether a RECIRCULATE apron might be the perfect gift to share with others, including our spouses perhaps?
| | |
| --- | --- |
| | Engr. Ebuwa Isagba is a Civil Engineer with area of specialization in Environmental Engineering. She is a researcher in the Department of Civil Engineering, University of Benin, Benin City, Nigeria. Her role in the RECIRCULATE project is that of an Integrated Research Project researcher, where she is currently researching on recovering resource from anaerobic digested organic waste (digestate) to be used as a sustainable fertilizer. Ebuwa has a Master's degree in Water Resources and Environmental Health Engineering and currently studying for her PhD in Environmental Engineering at the University of Benin. Ebuwa has made several research and development contributions towards environmental engineering projects ranging from waste management, bioenergy, environmental remediation, water and land pollution and control. She is passionate and committed to applying unique and innovative solutions to environmental problems. |
| | Valerie Ifeyinwa Ofili Edosa is a graduate soil scientist working as a lecturer at the Department of Soil Science and Land Management, Faculty of Agriculture, University of Benin, Nigeria and is an Integrated Research Project researcher/PhD student in the RECIRCULATE project (WP4). Valerie has B. Agric and Masters degrees in Soil Science (University of Benin, Nigeria). Valerie is a member of the Soil Science Society of Nigeria and International Union of Soil Science, she has made several contributions to research on soil health, organic agriculture and waste management. |
All articles in The FLOW are published under a Creative Commons — Attribution/No derivatives license, for details please read the RECIRCULATE re-publishing guidelines.
Related Posts
How was it for you?

As the RECIRCULATE project comes to the end of its 4.5 year funded period, we asked those who joined us for the most recent [...]

Closing the waste loop

Closing the waste loop; a case of the cattle rumen digestate amended with poultry droppings as bio-fertilizer. The end products of anaerobic digestion (AD) [...]

A recipe for success

The team at the University of Benin have been working on different aspects of the RECIRCULATE Water for Energy Production workpackage, one very important [...]