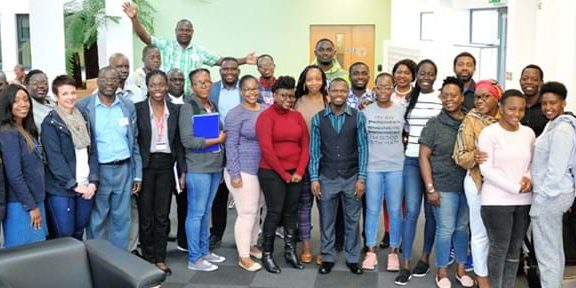 [Taken from original article on Lancaster Environment Centre website]
When Dr Nellie Kangwa was a young child she asked her father if she could become a boy, because she thought that being a woman in Zambia was just full of grief.
Nellie is one of four female entrepreneurs from the Women Innovators Network for Africa (WINA) who shared the story of their success during a two-week residency at Lancaster University, as part of the RECIRCULATE project.
WINA evolved out of RECIRCULATE, to encourage women entrepreneurship by establishing a network that promotes female leadership in Africa through peer support, including mentoring, coaching and training.
Afua Konadu Owusu-Kwarteng, from Lancaster University Ghana, is the network manager for WINA. She said: "We want to change the Google image of African women. They are doing amazing things, but they are not seen. We are offering a safe place to build the African woman as the emerging leader."
During their residency, the WINA entrepreneurs ran an inspirational session for the 30 RECIRCULATE fellows, talking about how they had set up and developed their businesses while bringing up children and sustaining their marriages.
"My dad was a reverend in a big Baptist church and my mum was a leader's wife," Nellie explained. "Lots of women would come to see my mum and I'd hear them talking about how painful marriage was, how difficult it was to be a woman: there were no positive stories. I looked at school and the head teacher was a man, company managers were all men, and the church was run by men."
Eventually, Nellie decided the answer was to 'play the game as a woman, without mimicking a man." She set up her own branding and transformation business for women, and wrote a book, The Make of a Real Woman, about how to be a success in business, marriage and life.
Her ambition is to give women the time, space and support to decide what they want to do in life, and to help them achieve their dreams. Nellie worked with women from villages and helped to rescue girls from being forced into marriage.
"Every person has an inherent gift, it just needs to be uncovered: you can choose to be an entrepreneur and an academic," she said.
Another of the WINA entrepreneurs, Sylvia Bwalya Mutale-Mwansa, explained how she has started a business selling work clothes, which she bought when travelling abroad with the Ladies Circle International where she was the first woman of colour to be President. The business grew, and she started helping to dress business high-flyers, senior executives and politicians as well as the general public.
"I dressed three presidents during their swearing-in ceremonies, and the first President of the Republic of Zambia Dr Kenneth Kaunda, I still dress and have branded his popular KK Safari Suits which are sold in my stores.," said Sylvia, who is Vice President of the Zambia Chambers of Commerce & Trade. Her latest venture is a consultancy, The Change Agency Initiative, to help "groom people to be who they want to be, with the correct attitude, from what they wear to how to start a business and sustain it." Sylvia, commonly known as Sunshine wants to conclude her career in a Co-Working space in order to inspire and create entrepreneurs.
Sjani Human from South Africa works independently for an International real estate company, selling residential and commercial property.
"I think the culture in most of our universities in Africa is just to come to work and don't step out of your comfort zone. But entrepreneurs see the picture nobody else sees: if there's a problem, they see a solution."
Like the other entrepreneurs, she agreed the secret is finding your passion: "something that wakes you up and gets you out of bed because you love it."
For Natasha Omokhodion-Banda, is a creative entrepreneur, working to tell stories from an African perspective through film and publishing.
"Today's female African entrepreneur is dynamic," Natasha says. "She is anyone who dares to take a risk in the hope of a better future for herself and those who will come after her."
The female RECIRCULATE fellows were inspired by the WINA stories. Mercy Fandamu, who works as a Research Development Officer of Zambia's Copperbelt University, said: "I was really encouraged. One thing that struck me is that if you have an idea and are committed to it, something good will come out of it."
The RECIRCULATE fellows also learnt about the Lancaster University model of working with research users and spoke to local entrepreneurs. They visited Halton Mill, a local small business hub, where they met entrepreneur Tanya Mulesa, who won the 2019 Global Women Inventors and Innovators Network Award for Exceptional Creativity.
Her start-up company, Cleverstein, produces shoes made of recyclable leather from sustainable sources, which can be accessorised for different occasions so women need fewer pairs in their wardrobe. Tanya also plants a tree in Zambia for every pair of shoes she produces.
As well as loving her shoes, the RECIRCULATE women were inspired by Tanya's vision.
Glenda Kasonde, Head of Environment and Sustainability Assurance at Konkola Copper Mines hopes to start a collaboration between Cleverstein and the Copperbelt Leather Cluster in Zambia.
"I have suggested that the Cluster could find skilled craftsmen to make the shoe accessories from scrap leather offcuts, and explore the concept of planting trees to offset their environmental impact," said Glenda.
The RECIRCULATE fellows were given a tour of Halton Lune Hydro, a community owned micro-hydro scheme that provides renewable electricity to Halton Mill and local homes. Glenda now wants to explore whether the large quantities of waste water produced by the Zambian mining industry could be used to generate electricity.
Dr Jess Davies, from the Pentland Centre for Sustainability in Business at Lancaster University, said: "Meeting with our visitors from WINA was just incredibly inspiring – every woman had an amazing story to tell of entrepreneurism, strength, and determination, all infused with friendship, family and compassion – it gave me a new perspective on authentic women leadership.
"I thought I knew what entrepreneurism was until meeting them – we've all seen Dragon's Den, and being an academic often involves a bit of an entrepreneurial attitude – but the bravery, resilience and industry of these women was just another level."