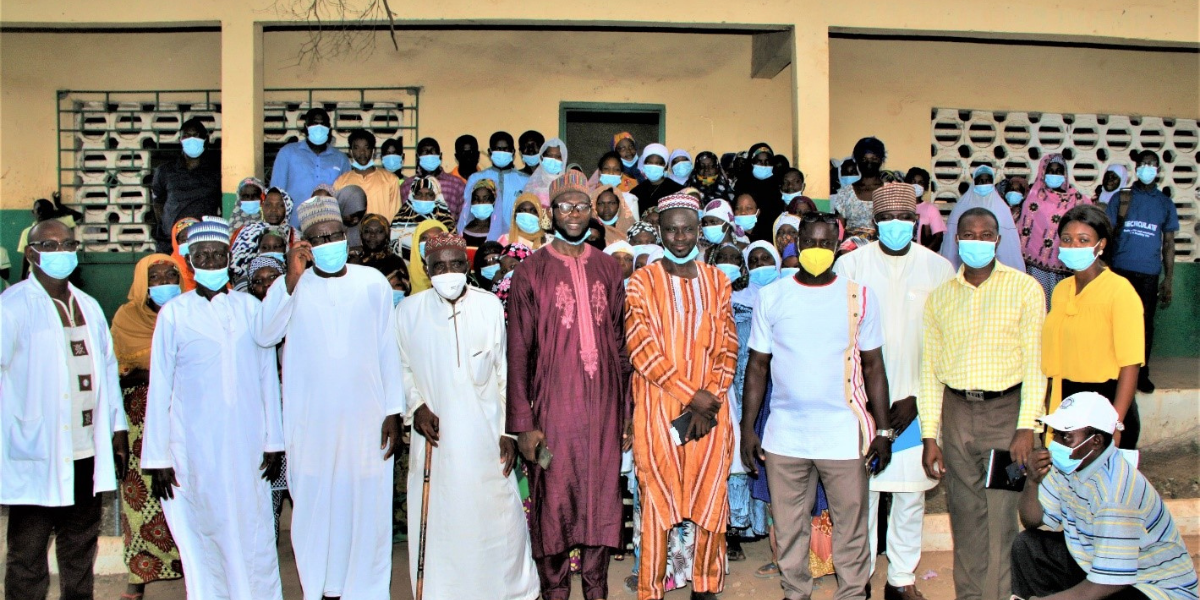 Ekua Afrakoma Armoo, researcher on the GCRF-funded ACTUATE project, explains the social dimension of establishing a demonstrator waste management system at Madina Zongo, in Accra (Ghana).
A Zongo in Ghana is characterised by two things: the majority of the people are Muslims and the commonest language is Hausa. In fact, "Zongo" originally meant "a settlement of Hausa speaking traders". Today, Zongos in Ghana are typically multi-ethnic settlements of traders and immigrants, mainly from northern parts of the Ghana or other Sahelian tribes from West Africa. Economic activity in Ghana is more vibrant in the south than the north, so "northerners" migrate to the south to seek better economic opportunities. Zongo communities are usually large and densely populated so social amenities are inadequate. However, there is something unique about the social setting in a Zongo. The communities are close-knit and people live a very communal lifestyle. Family systems are strong and children have a high respect for the elderly. That social setting may well be central to developing a more sustainable future for Zongo communities. Global leaders may debate international policies at COP26 but it will be local communities and local people who deliver action on the ground. The inclusion of children is vital to any transformational agenda. That led us to ask a specific question in ACTUATE: can children influence societal changes in such a community?
Madina Zongo is one of the largest Zongos in Accra. Like other Zongos, one of its major challenges is the management of waste. In Ghana, children are responsible for cleaning their homes and schools. After cleaning, they usually dispose of the waste in large bins or community dumpsites. Does anyone really care about what happens to the waste after that? In Madina Zongo, it is noticeable that some households practice some form of waste segregation by recovering plastics to sell to local recycling companies. However, the space required to store plastics, and the small amount paid by recycling companies discourage most households from segregating waste properly. Apart from plastics, the Ghanaian municipal waste stream contains 50-80% organics. This means recovering the organic wastes, things like food waste, animal droppings, and toilet waste, will enable the community to manage a large proportion of its waste sustainably. How do we achieve this?
The answer to that question is partly about deploying new infrastructure, like a biodigester to convert organic waste to biogas, but it is also fundamentally about empowering the community to identify its needs and drive change. The ACTUATE project is seeking to introduce something new into Madina Zongo to enable community members to better manage their waste. This needs behavioral change, so success depends on community support and buy-in. We started demonstrating this in partnership with one of Madina Zongo's Islamic Basic Schools – Umar Bin Hatab Basic School (UBHBS). Later, this will be disseminated to other schools within the community. One of the great strengths of the close-knit Zongo community is how quickly information spreads. We expect information about the project and more importantly circular economy concepts to be disseminated effectively once the leaders have grasped it.
To achieve this, we invited key stakeholders for a discussion: the Imam, Chief and elders, the school headmaster and teachers, selected parents, leaders of youth groups and some other community leaders. We wanted to find out if they were satisfied with the current waste management situation within the community. We also wanted to know if they had ideas about how to handle the waste within the community in a more effective and sustainable way. We soon learned that they were not satisfied with how waste was being managed, and that they had clear ideas of the reasons why. They blamed the poor attitude of some community members, which contributes to littering, but they also identified issues with the current waste collection system. For example, the cost is too high for many community members, and there are too few bins to meet the community's needs properly.
Those responses led us to our next questions. If an improved waste treatment facility was provided within Madina Zongo, would community members dispose of their waste there, and would they effectively segregate their waste? Stakeholders agreed this would work, so our next questions began to focus in on the detail. As community leaders, or maybe we should be calling them "influencers", how could they help to achieve this? They identified their role as guiding and encouraging community members to also play their roles. Would they allow children to help with this as well? The answer as a clear "yes", since children are the cleaners at home, they are best placed to do this. Our influencers were very excited about the new model of circular economy. In this way, we achieved buy-in from parents and community leaders to support children to transfer segregated waste to the new biodigester.
The ACTUATE project is empowering children within the community to segregate the household waste after cleaning and transfer the organics into a biodigester to produce biogas for the science lab at UBHBS. In this way, we are really demonstrating the circular economy within the Madina Zongo community. By engaging with the key community stakeholders, we have ensured that they understand the main concept of the project and support the school children to undertake this important activity. This approach is helping children to put the circular economy in to practice by incorporating it into their everyday lives. The children are also demonstrating the value in waste to others in the community: their friends, their siblings, their parents and even community leaders. The wider community is certainly very interested in the new concept.
For me, I am excited about the long-term impacts. The community is empowered to manage their environment in a more sustainable manner. This fits well with Ghana's newly established Ministry of Inner-city and Zongo Development, which also seeks to empower vulnerable urban communities for sustainable social transformation. One thing I am sure about is that even after the end of the ACTUATE project, the children who are the next generation of change makers, have learnt and taught their community that waste is a resource that must be recovered!
| | |
| --- | --- |
| | Ekua Afrakoma Armoo is a Project Coordinator at the CSIR-Institute of Industrial Research (CSIR-IIR), Accra, Ghana. She is an Environmental Engineer by training and her main areas of interest are innovative circular economy models, wastewater treatment and waste recovery and reuse. She has worked extensively in community education programmes with vulnerable urban communities and school children in Ghana on SDG-related projects. At  CSIR-IIR, she focuses on project sourcing and project implementation support for research scientists. She also coordinates activities for both the RECIRCULATE and ACTUATE projects.   |
All articles in The FLOW are published under a Creative Commons — Attribution/No derivatives license, for details please read the RECIRCULATE re-publishing guidelines.
Related Posts
Making the Business Case for Anaerobic Digestion in Africa: Business models from across the continent

Grace Bridgewater from the Lancaster Environment Centre and Cathy Olphin from Lancaster University Management School summarise the key outcomes of their analysis of anaerobic [...]

Healthy writing retreats: dare to enjoy your writing and joy will abound! Bear with me and try it out.

Dr Joana Pais Zozimo, a RECIRCULATE Senior Research Associate, reflects on the ongoing impact of healthy writing retreats, in her double capacity of qualified [...]

Spotlight Inverview – Sylvia B Mwansa

Sylvia B Mwansa holds a Master of Business Administration International (MBA(I) from Edith Cowan University, Australia. Her Unique Value Proposition is that, she is [...]