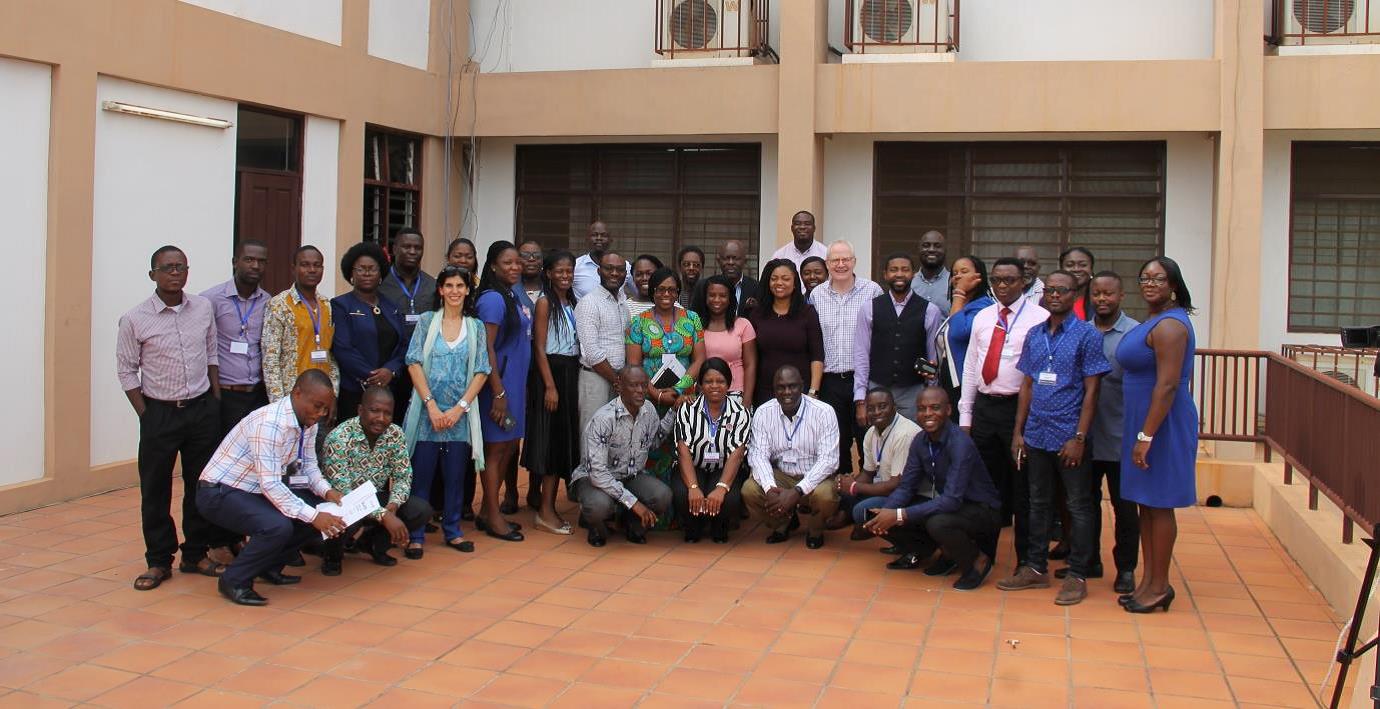 In this blog, Dr Priscilla Ntriwaa Otuo and Anthony N-yelkabong, two researchers from RECIRCULATE's Entrepreneurship and Innovation Work Package, share their experiences of how entrepreneurship affects science, and scientists
One question that the GCRF-funded RECIRCULATE project has posed is how can we encourage scientists, researchers and academics to be entrepreneurial and innovative in tackling complex societal challenges? As the project evolved, discussions around this question resulted in the birth of a focussed activity to develop a new training programme for Stimulating Entrepreneurial Thinking among Scientists- SETS.
Our aims for the SETS training was to co-design, co-develop and deliver curriculum and learning resources as tools to stimulate entrepreneurial thinking in scientists at all career stages.  Our starting points were existing experience at Lancaster University, and the RECIRCULATE's first Entrepreneurship and Innovation workshop held at Lancaster's Ghana campus right at the beginning of the project. From those foundations our next step was to pilot the SETS model over a six-month period (February to the end of August 2019), including three engagements with the participants. The first engagement was an initial training and capacity-building workshop held in Accra at the Food Research Institute, (FRI) part of Ghana's Council for Scientific and Industrial Research (CSIR). At this initial workshop, the RECIRCULATE team were joined by scientists, academics, researchers and business activists from RECIRCULATE partner organisations (CSIR, Lancaster University Ghana (LUG), and University of Benin (UNIBEN), Nigeria), non-governmental organizations and the private sectors. The 34 participants were organized in to seven teams and who worked together to develop entrepreneurial ideas.  The teams presented their progress at a second virtual workshop, and at the final workshop, again at CSIR-FRI, in September 2019. In this final workshop, all the seven groups reported on the work they have done in their respective institutions.
An essential part of the workshops was to engage scientists in understanding end-user challenges and then in applying and translating their scientific knowledge into impactful solutions that have social and economic value. Our SETS model does this by introducing business models to an audience who have very rarely come across such models as part of their training. A key element of SETS audience is providing a structure through which facilitators can 'translate' approaches like the Economist Leapfrog Model and the Opportunity Business Model to our scientific audiences.
From our point of view, it was a delight to watch how this developed over the workshops. For example, to see teams of scientists using the Economists Leapfrog Model, first to refocus on the challenges and developmental deficiencies and then to begin to develop business plans and proposals to translate their research in to eco-innovative solutions to these challenges. At the end of the training programme, participants were tasked to develop these plans further with their research-user communities and to develop a work plan putting their ideas in to action.
Long-term assessment of the SETS pilot is still ongoing, but our on-going engagement with the teams suggests that one significant effect of these pilot SETS workshops has been to start a chain reaction of training. The workshops have effectively "trained the trainers" who have then gone on to organise several capacity building workshops for their colleagues and networks. Overall, participants from our SETS events have now trained over 300 people from the various institutions and their affiliates on entrepreneurship and innovation. The audiences have been diverse. The hosts for our pilot, CSIR's Food Research Institute now include entrepreneurial training in their in-house mentorship programme for early-career researchers. A team from the CSIR Building and Road Research Institute (BRRI) organized capacity building programmes for BRRI's administrative and commercialization staff, and Nation Builders Corp (NABCO), focused on how good customer services are essential for growing their activities. The same team also organized training workshops to stimulate the entrepreneurial mindset of artisans and technicians from BRRI's real estates team and their brick, tile, and pozzolana factories.
A team bringing together colleagues from CSIR's Water Research and Industrial Research Institutes also focused on training.  They trained heads of Senior High Schools and National Service personnel on entrepreneurship and value chain of waste, with particular emphasis on waste segregation and separation. The team from UNIBEN organised two training sessions back in Nigeria. One of the workshops was on renewable energy technologies and environmental sustainability. The other workshop focused on entrepreneurial thinking and sustainable municipal solid waste management in Edo State. Both workshops brought together researchers, businesses, policy makers and students.
Our SETS training has clearly inspired our participants to 'spread the word' but it has also identified constraints to implementation that we will need to consider as SETS develops. Those constraints included inertia in bureaucratic processes and the lack of institutional support. Indeed, one common rationale for participants to deliver further training was to make administrators and managers more aware of the power of igniting the entrepreneurial abilities in scientists. Of course, even when raising awareness is successful there are often significant financial constraints. Given this, future SETS workshops will train participants on how to access funds for entrepreneurial activities.  Part of that may be the need to think beyond 'traditional science funding'. Genuine, broad-based collaboration between academic research, industry and policy may be one key element in accessing a wider range of financial support.  Our experience leaves us in no doubt that including stakeholders in training is an essential element of SETS.
Above all, the success of the SETS pilots have given RECIRCULATE's Entrepreneurship and Innovation team confidence in the value of our approach. We are looking forward to working with our partners to enable the wider roll-out of the program across more African institutions, for example through the development of an on-line SETS module and learning resources. The RECIRCULATE team has recently won British Council support to develop and deliver this online training.  This is to stimulate the entrepreneurial mindsets of scientists, academics and researchers while increasing their capacity to deliver such training to others digitally. Again, we see 'training the trainers' as essential here.
Working together on these developments, we are optimistic that RECIRCULATE's SETS programme can be a game changer in encouraging scientists to adopt entrepreneurial and innovative means to help Africa meet its sustainable development goals.
| | |
| --- | --- |
| | Dr Priscilla Ntriwaa Otuo is a Post-Doctoral researcher from RECIRCULATE's Entrepreneurship and Innovation Work Package.  She obtained both her B.Sc. (Hons) degree in Business Administration and MPhil in Marketing from the University of Ghana, and her PhD from the University of Hull, UK. Priscilla takes keen interest in African entrepreneurship and is passionate about supporting it through applied research and capacity building activities. Her current research contributions are centred on issues regarding the optimum "ecosystem" for African research institutions to work with, in and for their communities. |
| | Anthony N-Yelkabong is a Research and Engagement Officer of the RECIRCULATE project at Lancaster University Ghana (LUG). He obtained MPhil Environment and Resource Management and B.A Integrated Development Studies (Environment and Resource Management Option) both from the University for Development Studies, Tamale, Ghana. Anthony's researches (publications and assistance) are on the environment, water, sanitation, climate change, health, women empowerment, agricultural development, small and medium scale enterprises, disabilities and human wellbeing.  |
All articles in The FLOW are published under a Creative Commons — Attribution/No derivatives license, for details please read the RECIRCULATE re-publishing guidelines.
Related Posts
How was it for you?

As the RECIRCULATE project comes to the end of its 4.5 year funded period, we asked those who joined us for the most recent [...]

Making the Business Case for Anaerobic Digestion in Africa: Business models from across the continent

Grace Bridgewater from the Lancaster Environment Centre and Cathy Olphin from Lancaster University Management School summarise the key outcomes of their analysis of anaerobic [...]

Healthy writing retreats: dare to enjoy your writing and joy will abound! Bear with me and try it out.

Dr Joana Pais Zozimo, a RECIRCULATE Senior Research Associate, reflects on the ongoing impact of healthy writing retreats, in her double capacity of qualified [...]