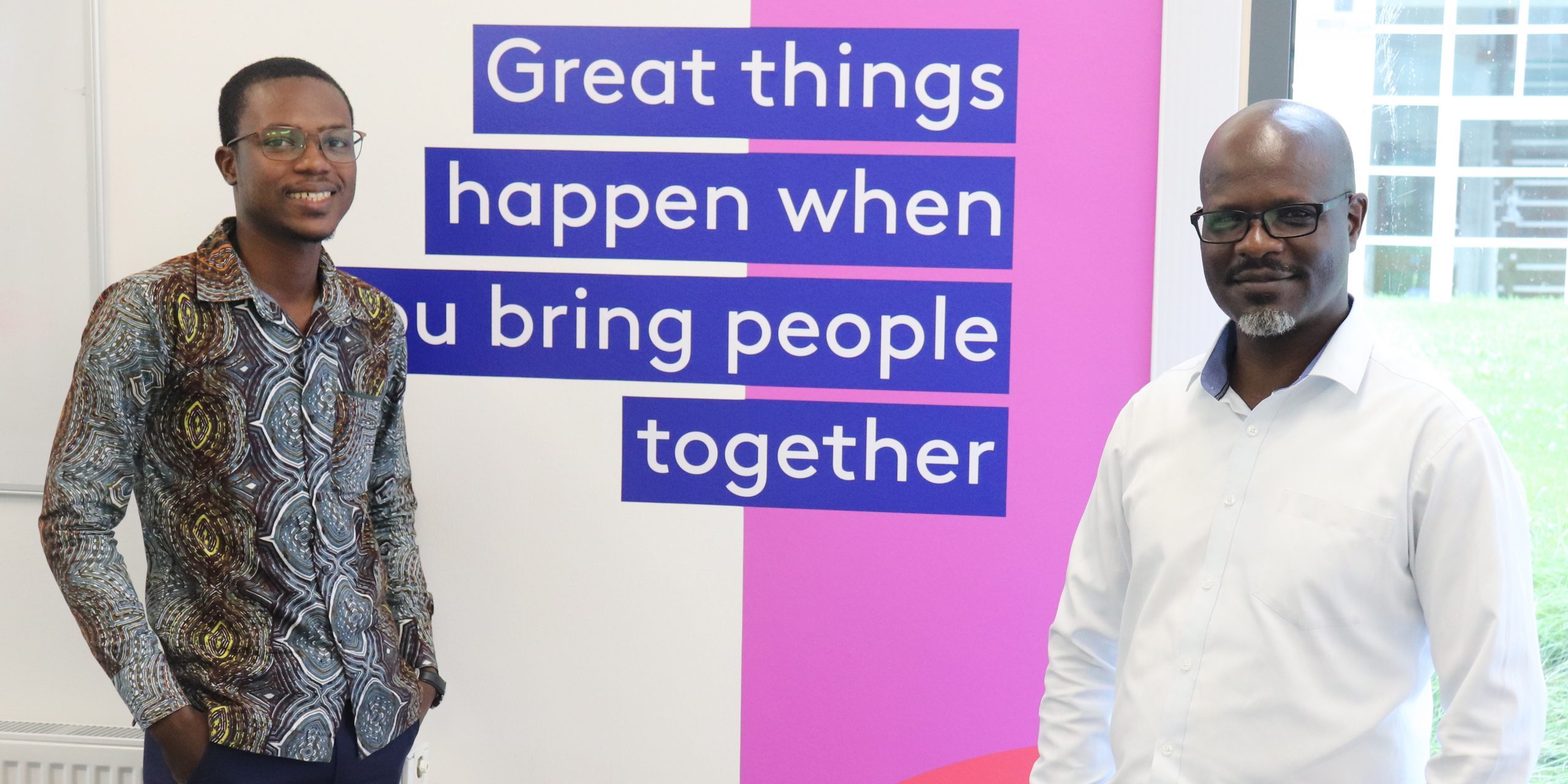 RECIRCULATE resident Jacob Amengor shares his experience of how his involvement in the project is helping him bring clean water and sanitation to rural communities in Ghana.
The United Nations considers access to clean water and sanitation to be a basic human right. Sadly, that right is still unavailable to many people living in low and medium income countries, who are obliged to resort to unsafe systems for their water and sanitation needs. Growing up in rural Ghana in the late 1990s, I remember the tap in our home was regarded as a white elephant. We were jubilant even if a few drops of water flowed for an hour. Later, during my undergraduate studies at the University of Cape Coast, I visited many communities who depended on untreated water sources like streams, rivers and hand dug wells as their source of drinking water. As a result, bilharzia, skin rashes and other water related diseases were common in these communities.  I experienced the negative impacts of relying on untreated water personally when complications from diarrhoea and subsequent treatment interrupted my education for two years. That gave me a passion to help my society to gain access to clean water and sanitation.  The question then was how could I achieve this?  What did I need to make my vision a reality?
I made a start through a series of WASH sensitization events that I have been organizing since 2014, alongside my fulltime job as an Assistant Water Quality Assurance Officer at Ghana Water Company Limited, where I am in-charge of the water quality operations at the Kpeve Water Treatment Plant. I started the Water Satellite panel discussions, which gave young people a platform to express their ideas on water and sanitation issues in their communities. I led school and community outreaches to sensitize people on best practices in WASH.
In February 2018, I took part in a RECIRCULATE Workshop on Innovation and Entrepreneurship in Accra – Ghana. That workshop opened my eyes to the disconnect between research and the implementation of innovations by industry. I came to understand that for interventions to deliver long-term benefits they need to be self-sustaining, and that I could achieve this by changing the way that research outcomes or interventions are implemented. The workshop included a lot of discussion about the positive impacts of collaboration and partnership in solving water and sanitation challenges holistically. I remember thinking "wow, this is new" and I left that workshop feeling equipped to upgrade the WASH sensitization events. I decided to adopt community engagement and entrepreneurship together with circular economy model in improving my work to provide WASH solutions in rural communities.
With the knowledge and skills gained from the workshop, I designed an integrated WASH system made up of a solar-mechanized borehole and biodigester toilet that runs on a social enterprise model. I pitched this solution during the Young Water Fellowship competition and the plan was selected and funded with €5,000. This was the birth of iWASH Africa, a social enterprise focused on providing integrated WASH solutions in rural communities. Through extensive community engagement, Abutia Amesianyakope, a rural farming community in the Volta region of Ghana was selected to be the first community to benefit from this innovation. Today, a 10,000 litre/day capacity solar-mechanized borehole system, which cost US$10,000, has been successfully constructed. Since April 2020, over 350,000 litres of water has been served to over 300 households, with a monthly revenue of US$80 that is used to maintain the facility. It is worth mentioning that community members were involved from the design through to the implementation of the project, which has created a great sense of ownership among the community members. My team and I are working tirelessly to ensure we implement the second phase of the project, which is the biodigester toilet facility in the community. This will help us measure the socio-economic impact of solving simultaneously the clean water and safe sanitation challenge in the community. The International Water Association selected me a winner of the Young Leadership award 2018 because of my efforts in helping my community achieve improved access to clean water and safe sanitation.
The knowledge I gained from RECIRCULATE also empowered me to organize a workshop on translating research to practice at two international conferences.  At the International Young Water Professionals Conference in Toronto – Canada, I organized a workshop in which over seventy young and senior water professionals discussed how research can be translated to practice.  All agreed that young professionals are dynamic and energetic, which positions them as drivers of change but sometimes are not given the chance because senior professionals consider them as inexperienced. The discussion also raised the critical need for better intergenerational knowledge transfer, which can be achieved through mentorship and inclusion of young people in decision-making processes.
During my residency at Lancaster University, I further enhanced my understanding on the inclusion of innovation and entrepreneurship in research studies. Based on that experience, I organized another workshop on translating research to practice with an entrepreneurial mind-set at the South African Young Water Professionals Conference in Durban – South Africa. A major outcome from the workshop was the call for policies that stimulate an environment conducive to industries and research institutions collaborating to develop solutions to societal challenges. Another outcome was an appeal for the establishment of entrepreneurship hubs in academic institutions to build the capacity of young innovators and researchers to translate their research findings into self-sustainable business ventures.
I joined the RECIRCULATE workshop wondering what I needed to do to make my vision of access to clean water and sanitation for all a reality, and I found the answer.  The RECIRCULATE programme has shaped my career progression and changed the way I see approaches to providing WASH solutions in rural communities. The project has equipped me with the knowledge and skills to approach WASH intervention with a collaborative and inclusive mind-set. Through iWASH and the pilot project at Abutia Amesianyakope.  I am confident that in the future I will reach more communities with clean water and safe sanitation. Thanks to RECIRCULATE I have started to see my vision become a reality.
| | |
| --- | --- |
| | Jacob Amengor is the Chief Coordinator at iWASH Africa, a social enterprise with focus on the provision of solar-mechanized water systems and micro-flush toilets in rural communities in Ghana. Jacob has a Bachelor of Science in Water & Sanitation from University of Cape Coast, Ghana, and is currently studying a Master of Science in Civil Engineering at University of Calgary, Canada. Jacob joined RECIRCULATE under the Innovation and Entrepreneurship work package in 2018. |
All articles in The FLOW are published under a Creative Commons — Attribution/No derivatives license, for details please read the RECIRCULATE re-publishing guidelines.
Related Posts
How was it for you?

As the RECIRCULATE project comes to the end of its 4.5 year funded period, we asked those who joined us for the most recent [...]

Making the Business Case for Anaerobic Digestion in Africa: Business models from across the continent

Grace Bridgewater from the Lancaster Environment Centre and Cathy Olphin from Lancaster University Management School summarise the key outcomes of their analysis of anaerobic [...]

Healthy writing retreats: dare to enjoy your writing and joy will abound! Bear with me and try it out.

Dr Joana Pais Zozimo, a RECIRCULATE Senior Research Associate, reflects on the ongoing impact of healthy writing retreats, in her double capacity of qualified [...]