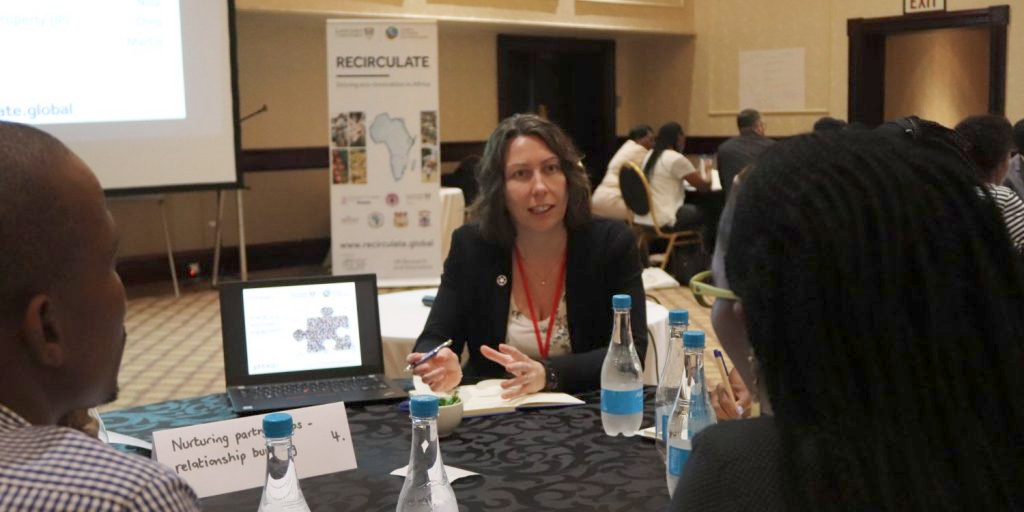 An engaging, demanding and stimulating experience.
I've spent the last week in Gaborone, Botswana, with colleagues from across Lancaster University. We were selected to support the RECIRCULATE project in delivering a week-long workshop around Knowledge Exchange (KE) and Engagement to a group of businesses, NGOs, researchers and university professionals from across Africa. I work in the Centre for Global Eco-Innovation, which supports business-led solutions to global environmental challenges. Our motto is, 'Better for business, better for the environment', and we believe all innovation should be eco-innovation. RECIRCULATE brings this ideology to Africa and addresses the UN Sustainable Development Goals.
As well as delivering part of the training, I've also benefited from the learning offered by my colleagues and other attending delegates. Observing the collective expertise and passion in the group was quite an experience.
Over the last few days I've had the pleasure of working alongside 40 amazing individuals from very diverse countries and communities. It's been an incredibly humbling and inspiring week which I will take back to Lancaster and will shape the way I consider KE in an international context.
I have worked in KE for most of my professional life and have focused on business/university engagements taking place in the UK North West. Placing KE in an international context adds layers of complexities and brings with it a host of new challenges. In the UK we take for granted our sector's support for KE activity and academic drive for impact. We have stable and robust funding streams from our government, EU and other agencies. And we have a reliable economy and predictable trading patterns (for now). The context across Africa can be quite different and our methods often simply don't work in this setting. Throughout the week we've worked together to apply shared experiences and expertise to find ways of working together and allow KE to take place in a different environment.
I have been involved in RECIRCULATE activities for some time and it has given me an appreciation for the challenges faced by my African counterparts. Even though they are the least responsible, climate change disproportionately affects developing countries. African nations are responsible for less than 3% of global emissions, but the continent is set to be the worst affected by the devastating impacts of climate change (UK Department for International Development). The continent is getting warmer and rainfall becoming less predictable. As the effects of climate change substantiate, future conflicts will be around fundamental resources, such as access to water. I've learnt from colleagues that this is already happening in parts of Africa.
Climate change clearly presents many challenges, but it also brings real opportunity. The UK low carbon economy is estimated to grow 4 times faster than other sectors, delivering between £60 billion and £170  billion of export sales of goods and services by 2030 (UK Clean Growth Strategy).
It has been fascinating to discuss with colleagues how we can learn to adapt and change our expectations of how we will live in the future. In one session we explored which party should take the lead in driving such a change – should this be the universities, businesses or government? We concluded that all parties were capable of driving change, depending on the situation. One group not considered was the general public – what role do we all have in driving an environmental revolution? We undoubtedly need to influence government policy and business practices, but I'd like to believe that 'people power' could force real change to happen, if only we could all agree on which compromises we are comfortable making.
I look forward to seeing many of my African colleagues again in July when some will take part in a 4 week residency at Lancaster University to further develop collaborative ideas and KE mechanisms.
| | |
| --- | --- |
| | Carolyn Hayes is a Operations Manager for the Centre for Global Eco-Innovation at Lancaster University. |