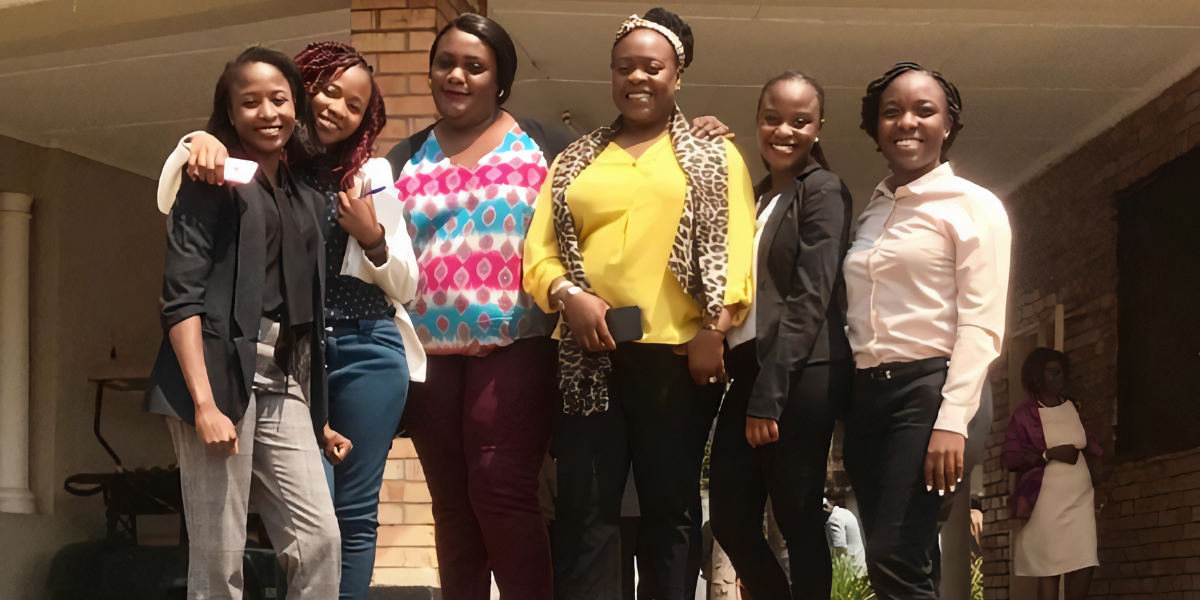 WINA ladies luncheon – LU Ghana visit (please note that this photo was taken before the COVID-19 pandemic)
In her two-part blog, RECIRCULATE resident Glenda Kasonde shares her experience of how her involvement in the project has transformed her take on collaboration between industry, research organisations and professional networks.
In the first part of my blog, I wrote about my background and how my involvement in RECIRCULATE has developed since I attended a workshop in spring 2019. I ended that first blog by mentioning I had been appointed to two National Steering Committees through ministerial appointment. That's part of my wider story since my involvement in RECIRCULATE, which is what I describe here.
Let me start with those National Steering committees. In June 2020, I was appointed to the Environmental Protection Fund (EPF) Committee, in accordance with the provisions of Zambia's Mines and Minerals EPF Regulations.  Then, in September 2020, I was appointed as a Zambia Chamber of Mines (ZCM) member of the National Steering Committee for the Eastern and Southern African Centres of Excellence. This is a World Bank funded project in which Zambia is one of eight participating counties.  To contribute to this project, Zambia is implementing the establishment of two Centres of Excellence, including one close to my interests, the Copperbelt University Centre of for Sustainable Mining (CBU-ACESM)
Sustainable mining may seem distant from RECIRCULATE's core focus on Water for Sanitation and Health, Water for Energy Production, and Water for Food Production, but part of my RECIRCULATE story is that approaches promoted by the project go much wider than just those areas. The need for enhanced collaboration between industry, government, community and research institutions cannot be overemphasized. It is key in promoting knowledge exchange and best practice in the sustainable use of natural resources. This has become a way of life for me. In everything I do, I am on the lookout for opportunities to partner in delivering gender-mainstreamed entrepreneurial and innovative solutions in addressing the key sustainable development goals.
The other lesson that shines through from RECIRCULATE is that an "entrepreneurial mind-set" isn't just relevant in a direct business context.  I am now proactive in exploring new opportunities for funding, network building and advocacy.  In November 2019, I provided partnership and support through ZCM for the Liverpool John Moores University proposal submitted to the Digital Access for All in Sub-Saharan Africa Project.  Should the funding be granted, I will represent ZCM and offer support on this project to ensure that the programmes in Zambia are delivered effectively.  That would be another very tangible benefit to ZCM from my involvement in the GCRF-funded RECIRCULATE Project.
Being part of the Graduate Women Zambia (GWZ), I successfully applied to be a member of the Graduate Women International (GWI) ad hoc fundraising committee, tasked to brainstorm a COVID-19 and post COVID-19 strategy for funding. The committee aims to set goals, identify funding sources, and support for GWI. Through this, I have been able to solicit support from the World Bank International Development Association.  We are collaborating with the World Bank on policies, reports and knowledge, a comprehensive global resource to move forward advocacy and activism, local to global, on the human rights, oppression, and empowerment of women and girls all over the world. With other senior members of GWI, I participated in the World Bank International Development Association September 2020 Forum.  As a result, I have invitations to participate in the Civil Society Organisation Roundtable with World Bank Executive Directors and the 2020 Annual Meetings of the International Monetary Fund and the World Bank Group.
I have also been very active in communicating my experience to wider audiences. For example, in December 2019, I contributed to an Open Day as part of Management of Mining and Mineral Resources for Sustainable Development in Africa (ESDA-MMR). Funded from 2017 by the African Development Bank (AfDB), the programme runs in eight African universities, including University of Zambia (UNZA). At the Open Day, I was part of a panel discussing "How Mining Companies are ensuring sustainability in their operations in addressing issues of climate change?" The key messages echoed many that are at the heart of RECIRCULATE. One relates to knowledge exchange and universities' brokering/convening power in confrontational situations. I am convinced that the ability of universities to be open and honest brokers can play a key role in convening, following-up and bringing solutions where there is misunderstanding between mining industry and the other stakeholders. The other message shared with RECIRCULATE is the power of co-creation/delivery of knowledge. One 'quick win' has been to use KCM's Nampundwe Mine for student research projects.  Five of these projects are already happening there, and one is even being prepared for a publication on "Effects of tailings disposal on the environment: a case study of Nampundwe Mine.
There have been other benefits of RECIRCULATE that I don't have space to cover properly. A meeting with a sustainable power company during my Lancaster residency led to me joining KCM's Energy Project, looking at reducing the company's carbon-footprint and clean power generation options. One way we can reduce our carbon-footprint is through waste reduction. For KCM these are very different from those in RECIRCULATE's core research. For example, major challenges for us include rubble contaminated with oil and grease and used tyres (mining uses big tyres).  I am exploring links with a cement manufacturer that is interested in incinerating both wastes as fuel sources in their processes, and to ensure that in doing so emissions will be abated.
Which is almost the last part of my story. I didn't expect being involved in RECIRCULATE would get me involved in energy efficiency, but it has.  The project has opened all sorts of unexpected opportunities for me.  It also made me realise even more clearly the vital importance of partnerships. In my case, I am grateful for partnerships across the RECIRCULATE network, but also for support from Zambia Chamber of Mines, Konkola Copper Mines, the Government of Zambia, Copperbelt University, University of Zambia, Graduate Women International, Graduate Women Zambia (GWZ) and many more stakeholders too numerous to mention. So this has been much more than my story alone. The real story is the power of working together across countries and across disciplines.  And that's what RECIRCULATE is all about.
| | |
| --- | --- |
| | Engineer Glenda Kasonde is the Head of Environment and Sustainability Assurance at Konkola Copper Mines (KCM) in Zambia. KCM is a major producer of copper cathodes, cobalt alloy, pyrite and sulphuric acid. The operations are located in four different geographical locations as follows: Nampundwe Mine in Shibuyunji District, Nkana Refinery in the City of Kitwe, Nchanga Mine, Smelter in Chingola District and Konkola Mine in Chililabombwe District. Glenda has a Bachelor's Degree in Chemical Engineering and a Master's Degree in Education for Sustainability both obtained from South Bank University, United Kingdom. She was linked to RECIRCULATE in April 2019, through the WP1 Building Capacity for Entrepreneurship and Innovation Workshop in Zambia, through nomination by the Zambian Chamber of Mines were she actively participates in the Health, safety and Environment programmes. |
All articles in The FLOW are published under a Creative Commons — Attribution/No derivatives license, for details please read the RECIRCULATE re-publishing guidelines.
Related Posts
How was it for you?

As the RECIRCULATE project comes to the end of its 4.5 year funded period, we asked those who joined us for the most recent [...]

Making the Business Case for Anaerobic Digestion in Africa: Business models from across the continent

Grace Bridgewater from the Lancaster Environment Centre and Cathy Olphin from Lancaster University Management School summarise the key outcomes of their analysis of anaerobic [...]

Healthy writing retreats: dare to enjoy your writing and joy will abound! Bear with me and try it out.

Dr Joana Pais Zozimo, a RECIRCULATE Senior Research Associate, reflects on the ongoing impact of healthy writing retreats, in her double capacity of qualified [...]