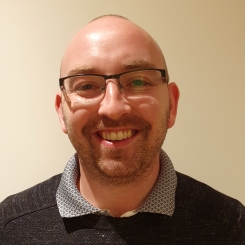 RECIRCULATE post-doc Ryan Edge shares the joys and challenges of growing rice at 55°N
Have you been enjoying the blogs in The FLOW?  I certainly have, they have helped me see the 'bigger picture' of all we are doing in the GCRF-funded RECIRCULATE project. I know that's one aim of The FLOW- to share our "RECIRCULATE stories", but it's struck that we haven't yet heard all that much about what it's actually like doing research within the project.  Of course, that will be different for everyone- it would be great to hear them all- but this is my story. "A day in the research life of Ryan Edge" if you like.
I drove to work in the dark this morning. My arms and legs were stiff from the drive and the cold. It was only about 8-degrees. The cold air combined with my face mask to mist up my glasses.  If that all sounds pretty irritating then, believe me, it's almost reassuring. After our prolonged lock down period it's great to be back to my normal morning routine- and back to 'hands-on' research.
Even better, any gloomy winter morning feelings were scorched away as soon as I entered my greenhouse.  I stepped from 8-degree darkness into 30-degree heat and near-blinding light. The sharp change in environment meant that if my glasses weren't fogged up before, they certainly were now.  But once I'd got through the shock of the change in conditions, I could have been thousands of miles away in the middle of Africa.  And that's the whole point. Not for my benefit but to make my rice seedlings feel at home! We are testing new techniques for growing rice and we need the conditions to be as close as possible to the field trials run by our partner CSIR in Africa. If we have things right, then from the rice plants' perspective this large glass box in the north of England should feel just like a little slice of Ghana.
Bringing West African growing conditions to Lancaster is anything but easy though. Let's start with the greenhouse installation itself.  Are you expecting me to tell you about all the amazing 'tech'?  Well, I'll do that, but plant science is often an eclectic mix of the cutting edge and the mundane. So yes, providing anything like Ghanaian sunshine needs an array of high-powered lights suspended from the ceiling.  But getting the temperature right relies on much simpler systems. Metal radiators at the bottom of all the walls provide the heat while ratcheted windows and fans work to control the temperature and humidity, all controlled by an array of sensors.
The lights and the heat may be the obvious parts of making our Ghanaian rice feel at home, but don't forget the soil. In fact, as you may have read in blogs from my colleagues working in the "Water for Food Production" elements of RECIRCULATE, it's what we do with soil and watering regimes that really matter.  Without the context that comes from working with colleagues in Ghana and Nigeria, I admit I might have used benches stacked with small plant pots. That's pretty much the standard approach to greenhouse-based research in the UK. However, to even come close to our partners' field experiments within RECIRCULATE I needed to get to grips with a very different approach.  So out with small pots and in with one cubic metre tubs, all filled with multiple tons of soil. The larger volume allows us to grow plants together in conditions much closer to a field crop than single plants growing in small pots.
I quickly realised that watering such large volumes of soil would be an arduous task using a watering can! Instead a crisp set of copper pipes leads to every tank.  On the end of each pipe are a variety of alien looking valves that allow us to precisely automate the water levels in tanks. Amidst the sea of high-tech plumbing are nestled several water meters not dissimilar those found in a house. As my experiments run, the dials spin and the numbers tick ever higher. I am eternally grateful that unlike at home, my research budget covers the water bill.
Completing the scene are nearly a hundred wires that snake from several control boxes into every tank. Attached to these wires are a myriad of scientific instruments, buried in the soil. These are enough to keep even the geekiest scientist happy. They allow me to measure everything about the soil that a rice plant might possibly care about, from the amount of water present to the oxygen available. Being able to make all these measurement is part of the power of international collaboration in a project like RECIRCULATE.  Our precisely controlled environment here in Lancaster allows us to make many measurements that are essentially impossible in the variable and unpredictable conditions of a field experiment.  On the other hand, however hard we try, we can never fully simulate a rice crop actually growing in Ghana or Nigeria. It's by working together- bringing together these different research capacities- that we can make real progress.
What unites my work with the African field trials is our shared aim of developing new techniques for growing rice suitable for an African environment. The scale of what we do is different, but the approaches are the same, and by working together we are making progress towards new ways of growing rice with less water. Others RECIRCULATE stories have explained that in detail. So I'll finish by thinking about the next chapter in "my story".  I joined RECIRCULATE just before the pandemic started, so I can't wait to visit our partners to work with them on their field sites, as others have throughout the project.  That's an amazing opportunity for a UK-based early-career researcher like me. Of course, I want to welcome my colleagues from Ghana, Nigeria and beyond back to Lancaster as well. I can't promise them good weather- but at least I can offer one small corner that might make them feel at home. Just like my rice plants!
| | |
| --- | --- |
| | Dr Ryan Edge is an agronomist working at Lancaster University and is a Post-Doctoral researcher in the RECIRCULATE project. Ryan has a PhD from Manchester Metropolitan University, UK. He has a varied research background but is primarily interested in understanding how plants react to environmental stress. |
All articles in The FLOW are published under a Creative Commons — Attribution/No derivatives license, for details please read the RECIRCULATE re-publishing guidelines.