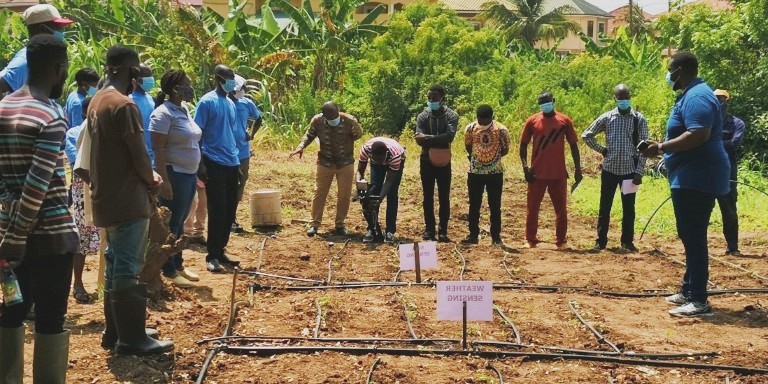 Working with local communities for wider adoption of agricultural technologies in rural Africa
In the first part of this blog I described the challenge of food security in Africa and the need for better knowledge exchange between researchers and stakeholders, including farmers and growers.  I wrote about our knowledge exchange activities at Crops Research Institute (CRI) part of Ghana's Council for Scientific and Industrial Research (CSIR), within the GCRF-funded RECIRCULATE project.
Our RECIRCULATE research focuses on alternate wetting and drying (AWD) and partial-root zone drying (PRD), which are novel water- saving agricultural technologies. We are promoting and disseminating these novel technologies by drawing on our experience of working with our communities through mechanisms that include training workshops and open days, and community demonstration plots established using Community Innovation Platforms (CIPs).  I emphasized our role in "Training of Trainers". I ended that blog by posing a question: "What do the stakeholders make of it all"?  Here are some the answers to that question, based on the first two years of RECIRCULATE.
About 85% of the members of our tomato and rice CIPs stated that they are willing to adopt AWD and PRD in rice and tomato production. One of the strongest lines of evidence for this, and for the success of our approach to knowledge exchange, is that we get frequent visits from farmers and extension agents from rice and tomato growing communities outside the scheduled dissemination events. They don't wait to be invited- they come and find out what we are doing!
Why are they so interested? Well they often explain that they can see how AWD and PRD technologies will save not just water, but also help save energy, labour and time. "By saving time and money, we can increase production under this technology" commented one grower. " Another strong message from members of the CIP is that they like the way that AWD and PRD can be applied simply, and can be easily demonstrated in other communities. For example, a farmer explained that it would not be necessary to wait on the managers of the irrigation system to always rotate the sprinklers across the fields for irrigation, "…. we can easily put this irrigation system in place and tap water from the allocated hydrants". Another comment was that "Having participated in the installation of the system, we can replicate it on our various fields since the materials are readily available".
Of course, the CIP members also recognize the value of using irrigation water more efficiently. Another farmer said "This is an irrigation site and we used to crop 2 to 3 times a year, but there has been a breakdown of some parts of the irrigation infrastructure. That's made it unable to supply water to some fields which has resulted in most farmers only cropping 1 to 2 times a year. But with this technology where we will use limited water, we can return to cropping 3 times a year".
Members of the CIP expressed appreciation to GCRF and to all the RECIRCULATE partners, including the Lancaster Environment Centre, who have been pioneers in developing AWD and PRD.  But this works both ways. For us knowledge exchange is just that- an exchange- a genuine dialogue. RECIRCULATE is learning a lot from the CIP members, not just about how to design and implement AWD and PRD but also how to fully deliver its goal of researchers "working in, for and with their community".
Working directly with our communities- the people who actually need to adopt the new technologies- has enhanced our appreciation of the need for proper community engagement.  Another great lesson we have learned is recognising a possible disconnect between policy and reality at the community level. In the past, technologies have been introduced to farmers but have not led to any real improvement in their day-today lives. This has made them reluctant to consider to further innovations. This "technology fatigue" can make introducing new technologies difficult in some communities. We have overcome this through multiple approaches including strengthening the CIPs, project sensitization programs, working through influential community members and personal contacts.
These lessons have been learned not just at CSIR-CRI but across all RECIRCULATE partners. Within RECIRCULATE, one exciting development of "Training the Trainers" has been for CSIR-CRI to host residences focussed on sharing our experience of knowledge exchange. When project colleagues expressed an interest in learning more about working "in, with and for" their farming communities, the RECIRCULATE team recognised that the best place for them to learn was CSIR-CRI. The project then funded residences by Dr. Ann Nnenna Ezeh from Ebonyi State University and Umunakwe Polycarp Chika from the Federal University of Technology in Imo State.  At the end of the residence, Polycarp told us that "The residence has provided me with the skills to take proactive steps that will lead to adoption of farming innovations from the university". We are delighted that our experience in Ghana is now being adopted in Nigeria.
We hope that effective community engagement by RECIRCULATE will improve the livelihood of CSIR-CRI's stakeholders in Ghana, including farmers who will benefit from increased capacity to manage water and nutrients in rice and tomato production systems. Beyond that, we also hope that by sharing our learning with all our project partners, our sister CSIR institutes in Ghana as well as in Nigeria, the UK, Botswana, Zambia, Malawi and Kenya, we can help address the challenge of food supply in communities across Africa.
RECIRCULATE sees "Water for Food Production" as one part of a "Circular Water Economy" and there is no doubt that drought is one key driver for the acute food insecurity that is afflicting tens of millions of people across Africa right now.  Using precious water as efficiently as possible is a pressing need, and the feedback from our communities encourages our hope that AWD and PRD are just the sort of scale-appropriate and ecofriendly technologies that can really make a difference to the lives of poor farmers facing the threat of drought wherever they may be.
| | |
| --- | --- |
| | Dr Stephen Yeboah (Agroecology/Agronomy) is a Research Scientist of CSIR-Crops Research Institute, Ghana. He has expertise in cropping and farming systems research, integrated nutrient management and conservation agriculture. Stephen is a key researcher staff on the RECIRCULATE project focusing on nutrient and water management in rice and tomato production. He obtained Doctor of Philosophy degree in Agroecology at Gansu Agricultural University, China. Stephen's research interests is to improve understanding of soil-plant-water relationships. You may contact me by email and follow me on Google Scholar. |
| | Ing. Dr Patricia Oteng-Darko is a Research Scientist (Soil and Water Engineer) of CSIR-Crops Research Institute, Ghana. Her expertise spans efficient resource in crop production, crop modelling and simulation, irrigation and water management in agriculture and aeroponics and hydroponics systems. Patricia is a researcher staff on the RECIRCULATE project focusing on irrigation management in rice and tomato production. You may contact me by email and follow me on Researchgate. |
All articles in The FLOW are published under a Creative Commons — Attribution/No derivatives license, for details please read the RECIRCULATE re-publishing guidelines.
Related Posts
How was it for you?

As the RECIRCULATE project comes to the end of its 4.5 year funded period, we asked those who joined us for the most recent [...]

Making the Business Case for Anaerobic Digestion in Africa: Business models from across the continent

Grace Bridgewater from the Lancaster Environment Centre and Cathy Olphin from Lancaster University Management School summarise the key outcomes of their analysis of anaerobic [...]

Healthy writing retreats: dare to enjoy your writing and joy will abound! Bear with me and try it out.

Dr Joana Pais Zozimo, a RECIRCULATE Senior Research Associate, reflects on the ongoing impact of healthy writing retreats, in her double capacity of qualified [...]