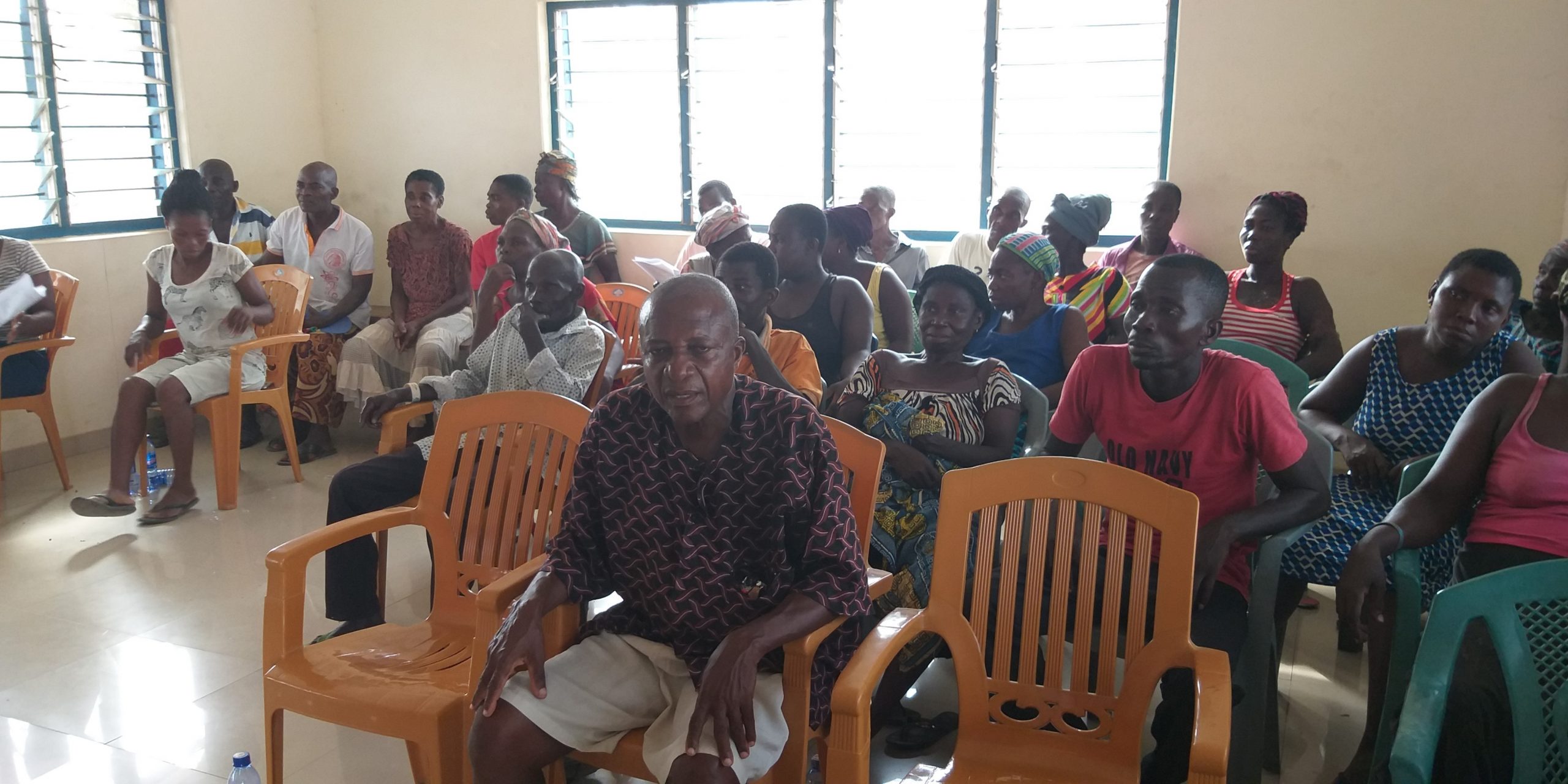 The RECIRCULATE project, work package 3, is developing eco-innovative technologies for optimizing water usage in food production, but how can we ensure the potential benefits are realised by the communities for which they're intended?
Water is a basic necessity for plant growth and its availability is fundamental to food production.  Irrigation scheduling plays an important role in managing water stress in plants to maximize profitability. Irrigation scheduling is the process of determining how much water (quantity) and when (time) to irrigate. The fundamental purpose of irrigation scheduling is to supply adequate water to fully wet the plant's root zone while curtailing over-irrigating and allowing the soil to dry out during irrigation interval, to enable soil aeration and encourage root development. The negative effect of over-irrigation includes water loss, increased cost through energy use for pumping, leaching of soil nutrients, increase in the susceptibility of crops to certain diseases, promotion of weed growth, etc..
As part of the community engagement activities under WP3, on 27th–28th February 2020 the CSIR IIR partners in RECIRCULATE undertook social research in Okyereko and Mankessim in the Coastal savanna vegetation belt of the Central Region of Ghana. This social research focused on the commercial potential of irrigation scheduling in Ghana.
<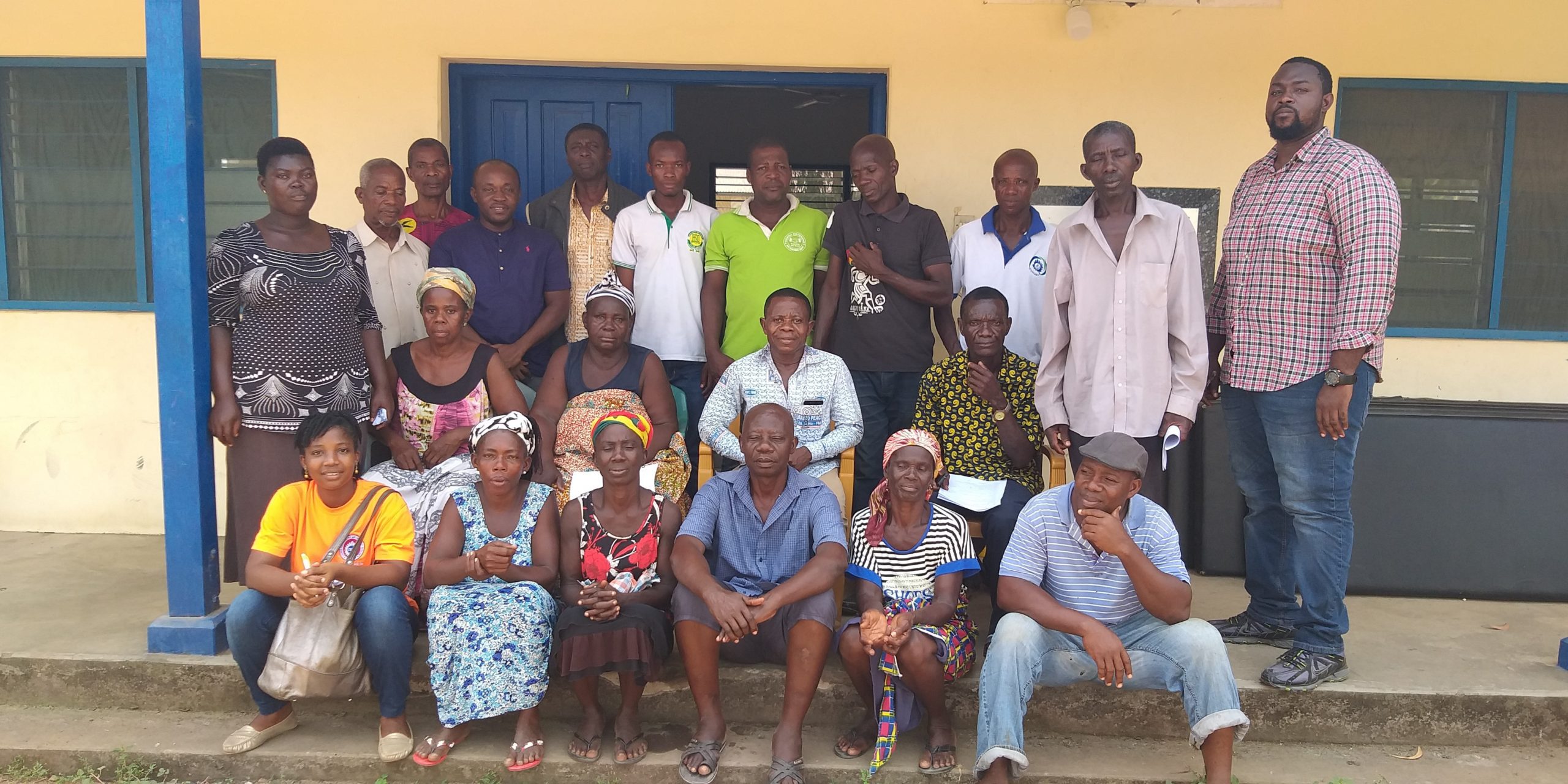 CSIR-IIR Research team with opinion leaders, farmer association executives, irrigation scheme project manager and farmers at Okyereko Irrigation Scheme
The social research enabled the research team to identify factors that influence farmers' adoption of technology and willingness to pay for water, as well as farmers' knowledge on deficit irrigation and irrigation scheduling. This vital information will help answer the question of whether small-holder agriculture can benefit from new approaches to irrigation based on an understanding of crop biology and access to new technologies?
130 farmers cultivating between (0.5 – 4 acres) of rice, tomato, okra, pepper, etc. were engaged over the two days through a participatory roundtable discussion with the irrigation scheme project manager, farmer association members and opinion leaders as well as selected interviews with individual farmers. This engagement provided the research team with an opportunity to understand and reflect on the socio-cultural differences as well as knowledge exchange with regards to irrigation practices.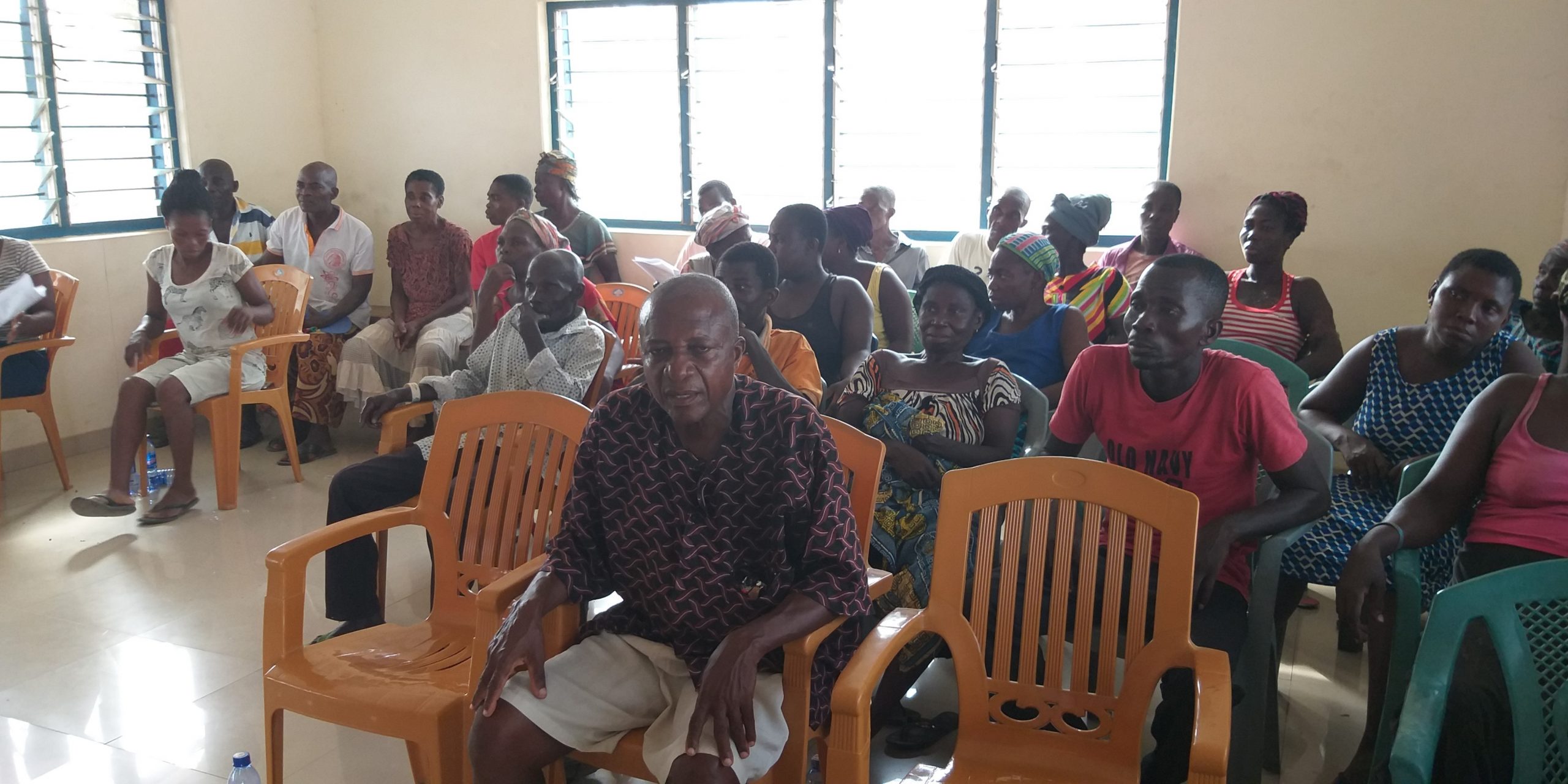 A section of farmers at the Okyereko Irrigation Scheme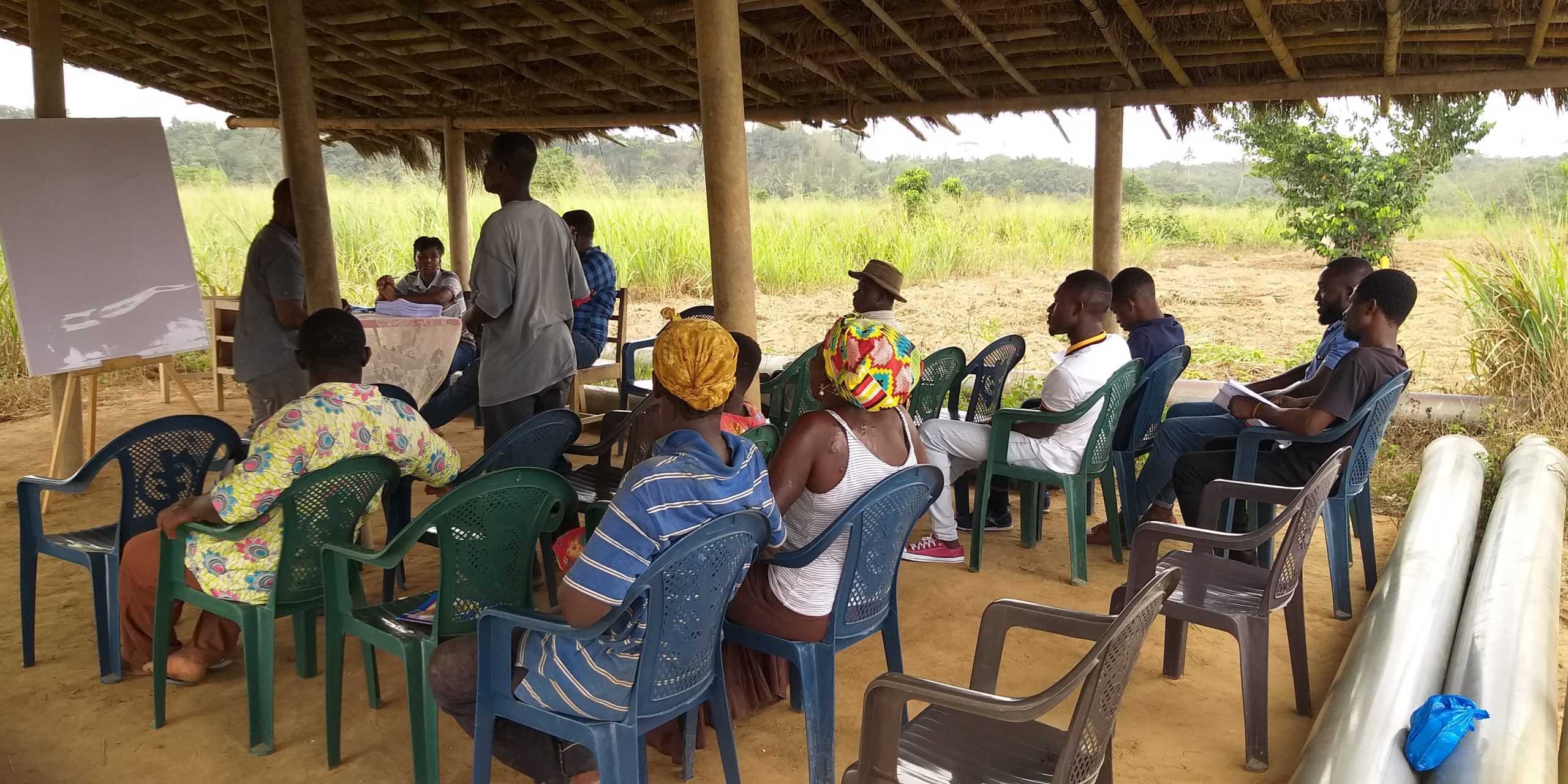 Participatory roundtable discussion with the irrigation scheme project manager, farmer association members together with CSIR-IIR Research team at Mankessim irrigation scheme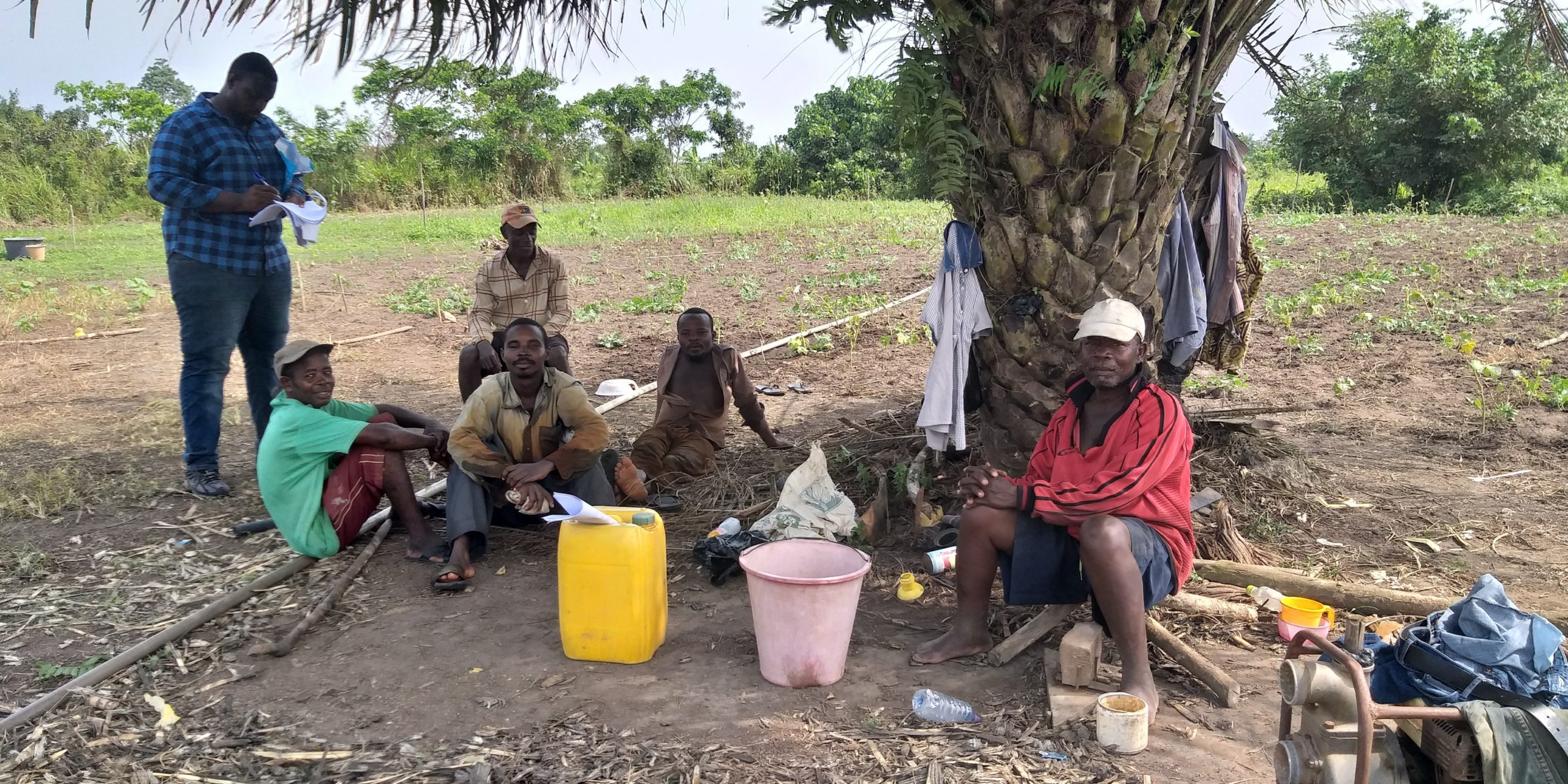 Selected interviews with individual farmers at Baifikrom, a community within the catchment area of Mankessim irrigation scheme
The 3 member research team comprised of Mr Japhet Otchere Gyamfi (Public Relations Officer of IIR), Mrs Anna Monney Hammond (RECIRCULATE project administrator, Ghana) and Mr Gilbert Osei (RECIRCULATE project scientist, commercial potential of irrigation scheduling in Ghana).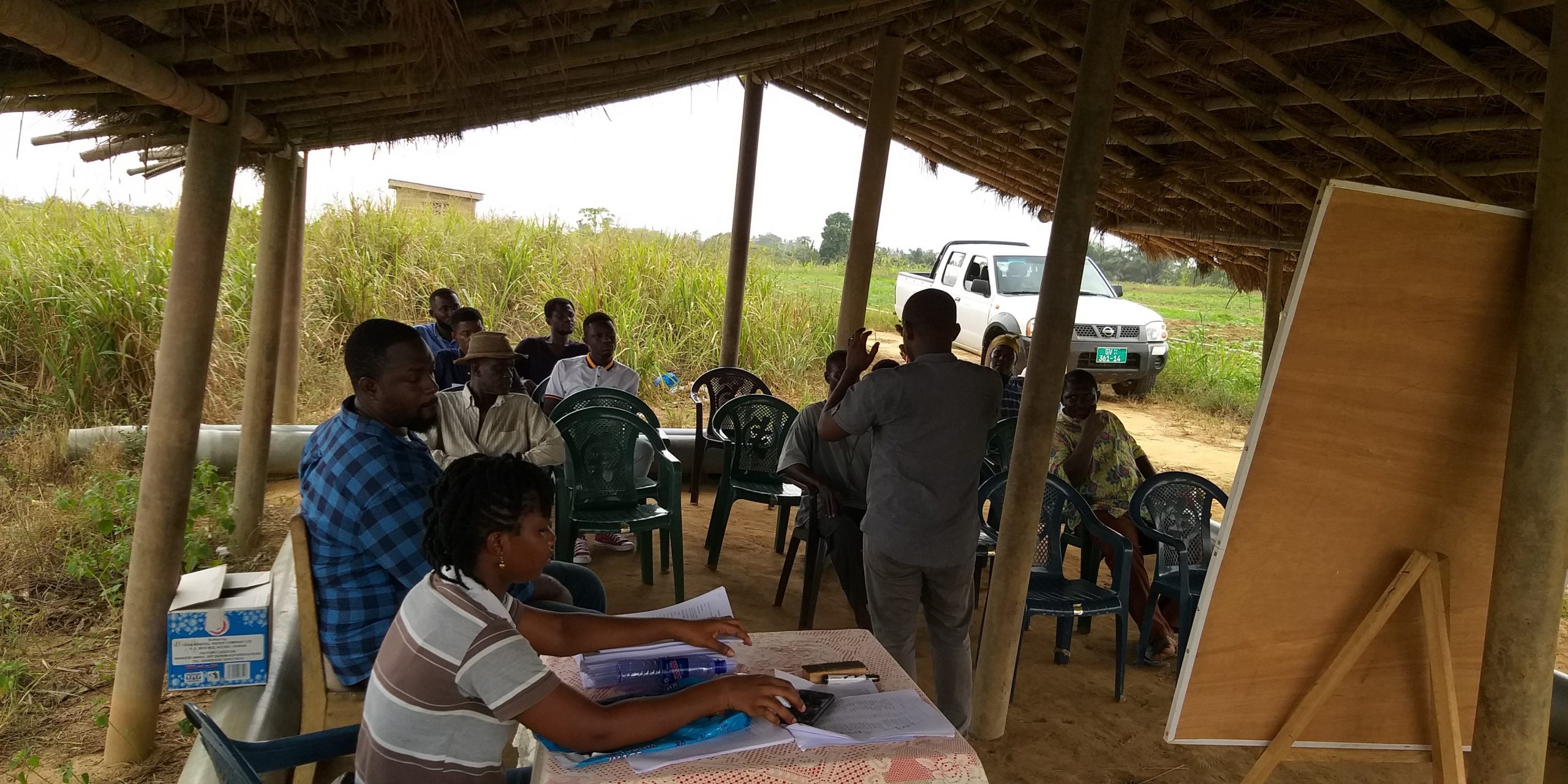 CSIR-IIR research team interacting with farmers at the Mankessim irrigation scheme
The following insights emerged from the engagement and interviews of farmers
Although electronic media is a channel through which farmers get information, the main channels for agricultural knowledge transfer are extension agents and farmer groups/field days. Group learning is the major route through which farmers adopt agricultural practices
Farmers were willing to pay for a new technology in irrigation, factors most crucial to technology adoption were economic justification, extension help/direction, Government assistance, fits with current practices and local knowledgeable farmers. Farmers were willing to pay for an improved irrigation system if it would increase economic returns.
Farmers lack knowledge of deficit irrigation and its potential benefits; however, they were willing to learn and adopt it.
Farmers have knowledge of irrigation scheduling, however, there is a gap between knowledge and its practice. Fellow farmers were the main source of information on irrigation scheduling. Irrigation scheduling technologies characteristics that were of most importance to the farmers included accuracy and reliability of data, easiness of implementation within farming system, the complexity of technology and affordability (initial cost).
| | |
| --- | --- |
| | Gilbert Osei is versatile researcher with interest in deficit irrigation, drip irrigation, pitcher irrigation and irrigation water quality. He holds a first degree in General Agriculture and a MPhil degree in Irrigation technology. He is currently a doctoral fellow at the Department of Agricultural Engineering, University of Cape Coast, Ghana pursuing a PhD in Irrigation technology and Management. |