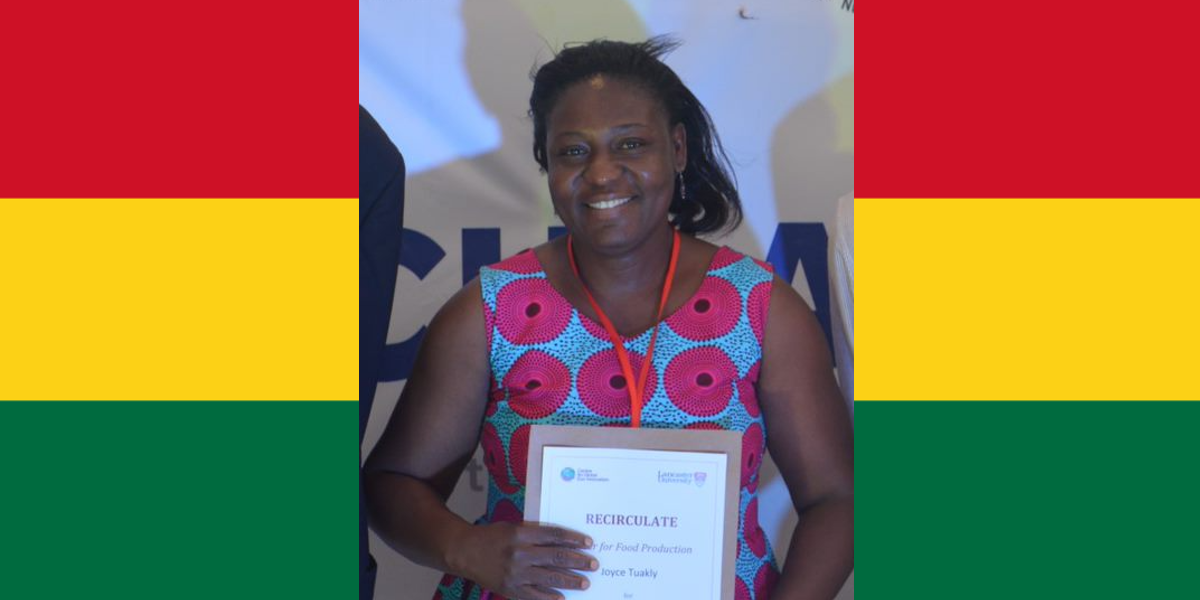 Joyce Asheley Tuakly is the Product and Process Development Manager at Blue Skies Products Ghana Ltd. She holds a BSc in Biological Sciences from Kwame Nkrumah University of Science and Technology and currently doing her MSc in Food Security with Lancaster University, UK. She also holds a Certificate in Advance HACCP and Advance Hygiene from RSPH, UK. Joyce started her career with Blues Skies Products Ghana Ltd. in 2005 as a Quality Assurance Officer and has continued to work there up to her current role.
To mark Farmers' Day Ghana, a day which celebrates the country's farmers and fishermen, we recently interviewed Joyce to find out a little more about her, her experience with RECIRCULATE and her thoughts on farming in Ghana.
Give us a sense of your current work and affiliations. 
I am currently the Product and Process Development Manager at Blue Skies, which is a fresh cut factory with networks in Ghana, South Africa, Egypt, Brazil, Benin, Senegal, Ivory Coast and the UK, with the head office in Pitsford, Northamptonshire. We supply supermarkets across Europe such as Sainsbury's, Waitrose, Aldi, Asda, Tesco in the UK, Monoprix and Carrefour in France, Albert Heijn in Holland, Esselunga in Italy, Coop Betty Bossi in Switzerland, providing fresh cut fruit and fruit mixes like mango, pineapple, papaya, melons, pomegranate, apples. We also do fresh juices and non-dairy coconut ice cream which is sold in Ghana and the UK. Each country produces fruits that are common and in commercial quantities to minimise imports. The fruits and juices have a short shelf life of 6 to 7 days with no preservatives or sugar added.
My main work is to ensure new and existing product development meets customer specifications and the standards of regulatory bodies like BRC, FSSC, Fairtrade, FDA and GSA. I also ensure all materials and resources needed for a successful launch are available for production and that products meet food safety, legality and quality standards. I ensure products in development follow the developmental stages set out by our customers, regulatory bodies or Blue Skies.
On process development, my duty is to ensure process changes are documented and trials are carried out scientifically and meets all standards. I then ensure its successful implementation.
How did you hear about the RECIRCULATE project and what has been your experience engaging with the project so far?
Through the initial meeting here in Ghana and the residence in Lancaster, UK and the further project work with the Water for Food Production – Integrated Research team from CSIR, Green Advocates and HATOF Foundation, I have learnt a lot that has made me a more confident person. People like Prof. Nigel Paul, Prof. Bill Davies, Prof. Ian Dodd and Dr Akan Odon really challenged me to go all out to achieve whatever I set my mind to. RECIRCULATE opened the gates to meeting professionals that would have taken me a longer time to associate and even work with. It has also given me the opportunity and experience to manage an international research project funded by GCRF and this has been added to my portfolio. The RECIRCULATE team and my Lecturers who were also part of the project (Prof. Bill Davies, Prof. Ian Dodd) added me to that project because I am a student at Lancaster with LEC.
How are you celebrating or how will you be celebrating Ghana Farmers' Day?
Unfortunately there is nothing much planned as I will be at work, but I will take a retrospective on what in my own small way can be done to help farmers in my community, especially with the great results I've got from the anaerobic digestion project I did with Sewage Systems Ghana Limited for the RECIRCULATE Integrated Research team. I am also having the opportunity to publish my work at the end of the project.
What do you feel should be highlighted/emphasised for Ghana Farmers' Day this year?
The drift from inorganic fertilizers to natural compost or digestate which is more environmentally safe and less expensive but delivering the same or even better fruit yield and quality.
Are there opportunities you think can be explored, bearing in mind these challenges you highlighted?
With focus on air freight, it's a bit dicey because if the airlines are not getting many passengers it won't be cost effective to ply a particular route. We are looking at long shelf product that will not use air travel as means of getting to the customers and also strengthening the sales of products in the local country, thereby less dependence on air freight as we currently have.
The whole farming system needs attention as climate change is causing major effects on fruit supply and availability. The Government, Institutions, Organisations and the Farmers themselves need to come together and look at the best scientific methods available to resolve or help in ensuring yield and quality of farm produce are improved. Different farming techniques need to be employed to combat climate changes.
Where do you hope to see Ghanaian farming in the future?
I hope that it can be self-sufficient and be able to feed more than it does presently, with quality and healthy farm products. Utilising good roads to convey farm products to market centres to ensure stable farm product supply all year round and reduce or eliminate frequent price increase in farm products.
Any final thoughts about farming in Ghana?
I wish the Government, through the Ministry of Agriculture, will give a much needed boost to farming and provide more extension support and incentives to farmers.
All articles in The FLOW are published under a Creative Commons — Attribution/No derivatives license, for details please read the RECIRCULATE re-publishing guidelines.